Address: Portugal
Jorge Godinho is a legal consultant and a visiting professor at the Faculty of Law of the University of Macau, where he teaches gaming law and anti-money laundering law. Jorge joined the Faculty of Law as full-time assistant professor in 2004 and became an associate professor in September 2009. His current academic interest is gaming law. He holds a PhD from the European University Institute in Florence, Italy, and a Master degree in Law at the University of Macau, with a thesis on the crime of money laundering. Prior to embarking on an academic career, he has practiced law in Portugal and Macau, and has worked in the Government in Macau, in the Legal Affairs Dept and in the Monetary Authority.
Related Articles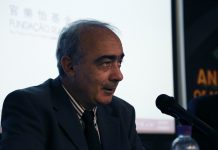 Macau gaming law professor Jorge Godhino says the public tender for gaming concessions will likely be held in 2021, Macau News Agency reports. On Saturday, Macau's secretary for Economic and Finance, Lionel Leong said that the government is doing preparatory work for a public tender process for gaming concessions, which will happen prior to the […]
Macau depends entirely on gaming to survive. Gamblers tend to smoke and there has been smoking in gaming areas from 1849 until now. So maybe it would not be prudent to rapidly ban all smoking whatsoever in casinos. Such a measure, in the worst scenario, could send many gamblers away and be roughly the equivalent to suddenly closing several casinos, causing a significant decrease in revenue and a strong impact on public finances. But this is exactly where Macau is heading now.A full ban on smoking may be difficult to justify and hard to defend legally. 
The central topic of the G2E Asia conference 2015, around which the most interesting discussions revolved, was the state of gaming in Macau in light of the recent severe downtrend in gross gaming revenue and the VIP market.It was a bipolar conference. Two key panels could not have been more contradictory. Anyone attending just one would get an extremely one-sided message, as two seemingly divergent narratives were aired.
iGaming Congress 2015 round up by Jorge Godinho* The English Premier League continues to dominate the booming Asia sports betting market, helped by the fact that games are shown widely across the region and played in Asian prime time, however the Spanish league is gaining in popularity, the iGaming Asia conference heard last week.The iGaming Asia Congress, organized by Beacon, is a regular feature of the busy conference scene in Macau and this year's event took place on March 17-19 at Melco Crown Entertainment's City of Dreams resort. The event attracted more than 350 executives from the online gambling sphere. Although there are no specific figures on sports betting in Asia, about 44 percent of global gross gambling revenue from sports betting is thought to come from the region, and about 70 percent of global in-play betting according to a panel that included Ladbrokes, SBOBET, SBTech and BetConstruct.However punters are wary of some non-European leagues, as they are seen as posing a corruption risk and do not attract much betting. There have been various scandals of match-fixing or even totally non-existing games, called 'ghost matches'. Betting firm SBOBET was recently the victim of such a ghost match that allegedly took place in Belarus and on which they paid out, but it was later discovered that the match never took place.In terms of betting trends, the majority of bets are made in-play, that is, during the event, and most of the revenue now comes from mobile devices.However, the latest novelty includes so-called 'cash-out' bets, which provide the possibility of settling the bet before the event has finished. Another is 'fast markets' bets, such as betting on what will happen in the next minute or five minutes, which allows many bets and settlements during a single game.The conference heard from Michael Charlton, General Manager - China for Ladbrokes and Geaspar Byrne, Head of Strategic Planning, that Beijing's recent crackdown on online gambling may be linked to its own footballing aspirations. Authorities may be making a concerted effort to regulate the market ahead of the introduction of a proposed new soccer lottery to raise funds to develop the sport in China.The country has ambitious goals to improve the quality of its teams and a new lottery is one way of potentially raising the necessary revenue. Beijing is ultimately eyeing a bid to organize the FIFA World Cup in 2026. The existing Sports Lottery in China is booming, with last year's World Cup in Brazil helping to drive revenue and highlighting the popularity of the sport. The Sports Lottery's sales gained almost 33 percent in 2014 to RMB176.41 billion ($28.5 billion), although this has decreased by about half in 2015 following announcements by several online lottery distributors that they were closing down their online operations.During the conference, there was also much discussion related to the legality of online betting in Asia, including the difficulties that raises for sports sponsorship and advertising. As many jurisdictions restrict the advertising of online gaming, companies need to be creative and, for example, have brand ambassadors such as snooker players or other celebrities. Once acquired, Asian customers may stay for a relatively long time and the longevity of a site effectively tells the customer that it can be trusted, although the critical issue from a player perspective is the speed of payments.Online gambling is not legal in many jurisdictions and there is a certain ebb and flow. Operators may be prosecuted and payment processors, always a critical part, may be targeted by the authorities. A case in point is Singapore, which recently passed tough legislation against online gaming. All online betting sites were blocked and local financial institutions cannot process the payments. According to the new Remote Gambling Act no company anywhere in the world may take bets from Singapore, under threat of criminal sanctions. Matt Pollins, associate at law firm Olswang, said that enforcement may include arrests of company executives at Changi airport and extradition requests to Singapore, although it is debatable whether this would actually happen. The new law does not apply to social gaming, which provided the focus of attention for the first day's sessions. The social gaming market in Asia is booming due to the explosion in the use of smartphones and tablets. A growing number of people in Asia only connect to the internet via mobile phones, and in many sites the vast majority of the traffic comes from mobiles. In Hong Kong there are 2.4 phones per person on average, and the hours spent using them are much higher in Asia than in Europe or America. Very often the devices are used as a second screen, given the modern propensity to multitasking and to have short attention spans. A presentation by Oona Chan, Head of Broadcasting for the Hong Kong Jockey Club, provided an excellent example of how their app can greatly enhance traditional passive TV viewing and provide a wealth of additional information not available elsewhere. However, speakers agreed that it is still very early days for wearable devices such as smart watches to have a significant impact in the market.The prize Asian markets are currently Japan, Korea and China. Various speakers stressed the need to localize the applications, adapting them to the particular tastes and preferences of each country and sometimes region. This may mean for example the inclusion of auspicious objects or the need to have native speakers in the customer support lines.Social gaming business is conducted using models such as free to play (free with subsequent purchases) and pay to play (either an upfront payment or a monthly subscription). However, the vast majority of players never buy anything and just play the free parts. The main platforms are iOS and Android, which take 30 percent of the gross revenue. Game developers must also pay publishers. Integration with social networks, such as for login, is quite important to generate traffic, as in each country there may be a dominant one. Loyalty points or rewards, virtual or real-world, help retain business, as well as good customer support.A special session on India moderated by Tim Shepherd, COO of Silver Heritage Group, highlighted that it is the largest untapped gaming market in the world due to a basic prohibition arising from a law passed in 1867. Vidushpat Singhania of FICCI confirmed that there is horse racing, lotteries, casinos in Goa, Daman and Sikkim, and online gaming only in the latter state. Gaming is regulated at state level and not at federal level. There is an acceptance of games of skill such as Rummy, and of social gaming, but the situation in online gaming may not change unless there is serious lobbying and a huge shift in public opinion. In any case, a speaker stressed that the situation may evolve and therefore interested companies should position themselves. A panel of speakers including the founder of the Bitcoin Foundation, Jon Matonis, Jiten Melwani, CEO of BitGame Labs, and Daniel Schwartzkopff of BetVIP also discussed gaming operations that use Bitcoin, the decentralized digital currency that uses peer-to-peer technology. Bitcoin transactions provide immediacy, privacy and irreversibility and cover all jurisdictions worldwide, which does not happen with major credit cards. Bitcoin payments, which do not require a bank account and do not incur processing fees, are popular in grey market online gambling and in fact 40 percent of all Bitcoin transactions relate to gaming. However, licensed operators should not try to operate using normal currencies as well as Bitcoin, as customer due diligence checks mandated by anti-money laundering laws may be difficult or impossible to perform. Many regulators do not allow this and may require the use of registered wallets or otherwise cancel the license of operators who do not satisfactorily comply.Another panel was devoted to the European sports betting scene, which is rapidly changing under pressure from the financial crisis and the European Commission. A significant number of jurisdictions are expected to start licensing operators in 2015, including Portugal, Greece, Romania, Serbia, Hungary, Liechtenstein and the largest market, Germany. However, a system whereby a single license would allow to offer betting services in all 28 European Union jurisdictions is not going to materialize any time soon.The gradual expansion of poker in Asia was touched upon. David Jung of Hero Poker maintained that online poker does not cannibalize offline poker, and in fact the integration between both is probably the best way to operate. In China there has been acceptance of poker, with tournaments being held in Hainan Island. In Macau, poker started in 2007 at the Grand Waldo and PokerStars is now operating at the City of Dreams.-- * Jorge Godinho is a visiting  professor at the Faculty of Law of the University of Macau and an AGB Legal advisor.