Company: QueenCo Hotel & Casino
Casino director, QueenCo
Related Articles
Construction in the once sleepy seaside town of Sihanoukville is everywhere, with cranes, cement trucks, container lorries, and excavation generating clouds of endless dust.
The expansion of Cambodia's casino industry has continued apace into 2019, though the collapse of a building in Sihanoukville in June has raised concerns that construction and environmental standards are being ignored in the race for development.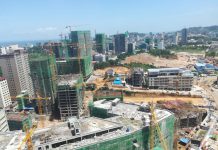 Cambodia's online gaming ban, which came into effect as of Jan. 1st, has triggered mass layoffs and the shutdown of numerous casinos, and is not expected to be lifted due to pressure from the Chinese government.