Senior associate at global communications consultancy Monteith & Co.
Related Articles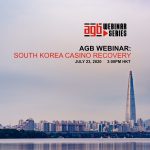 The fifth edition of the AGB Webinar Series will take you to South Korea, one of the first countries to reopen their gaming industry...
The ASEAN Gaming Summit returns on 22-23 September 2020 at the Shangri-La BGC in Manila, the Philippines for its high-anticipated fourth edition. Following popular demand, the three-day...