Company: Philippine Amusement and Gaming Corp (PAGCOR)
Andrea Domingo is the chairman and CEO of the Phillipine Amusement and Gaming Corporation. Domingo was previously the general manager and CEO of t he Philippine Reclamation Authority from 2007-2010. She is also a former congresswoman of the 3rd District, Pampanga, and a Commissioner of the Bureau of Immigration.
Related Articles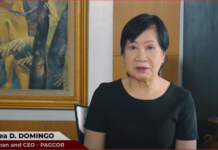 Philippine Amusement and Gaming Corporation chairwoman Andrea Domingo is placing her hopes on new online gaming initiatives in the country to boost industry revenue this year.