VIP baccarat revenue was up 51 percent quarter-on-quarter and made up almost 48 percent of the revenue for the quarter, while mass market revenue jumped 77 percent from Q2, accounting for 38 percent overall, according to government figures.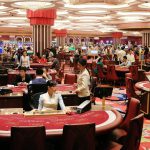 Macau received a total of 148 exclusion requests in the third quarter, putting exclusions on track for a record high, according to figures from the regulator.
Gross gambling revenue from the mass market sector rose almost 18 percent in Q3, while VIP play declined 22.5 percent as the slowing Chinese economy held back growth, according to figures from the Gaming Inspection and Coordination Bureau (DICJ).