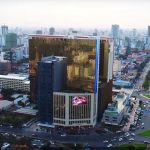 Hong Kong-listed NagaCorp has announced the voluntary suspension of operations at its NagaWorld property in Phnom Penh after several staff were found positive for Covid-19, as well as a rise in Covid-19 community transmissions in the country. 
State-backed Grand Korea Leisure has announced that it is once again extending the Covid-related business suspension of its two Seoul casinos, this time to March 15.
Grand Korea Leisure has issued a filing announcing that its two casinos in Seoul and the one in Busan will be extending their closures until February 15 under the continuing impact of the coronavirus pandemic.
Crown Perth has been obliged to suspend its gaming and F&B operations until February 5 under guidance from the government of Western Australia. This action is in response to a new wave of Covid-19 infection in the Perth metropolitan area.
Grand Korea Leisure released a business update indicating that the two-week closure of its two casinos in the Seoul metropolitan area, the Gangnam and Hilton casinos, will result in an estimated loss of sales in the range of KRW5.1 billion (US$4.6 million).
Amid reports of more than a dozen persons testing positive for Covid-19 in Goa's offshore casinos, the Aam Aadmi Party has demanded their closure, fearing a resurgence of the coronavirus pandemic in the state.
SkyCity Entertainment's Adelaide casino will close from Wednesday after the South Australia government announced a six-day lockdown due to an outbreak of Covid-19 cases. The company also said it will postpone the opening of its newly expanded sector until December 1st.
The revenues of local governments in South Korea are being heavily impacted by the long-term suspension of operations at Kangwon Land, triggered by the Covid-19 pandemic, as well as a running dispute over the calculation of how much money the resort is obligated to pay to the abandoned mine fund.
Five Philippine Offshore Casino Operators (POGOs) have closed down due to a difficult business environment caused by the Covid-19, reports Philstar.  The information comes from...
Everi Holdings Inc swung to a net loss of $13.5 million in the three months ended March 31, 2020, due mainly to March casino...