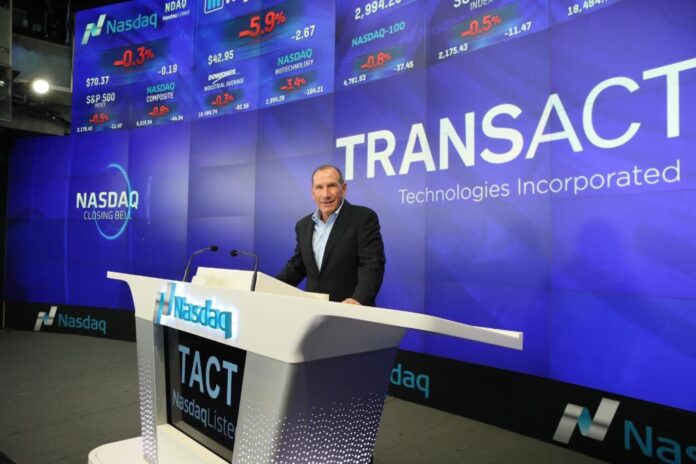 Despite the strong revenue stream, significant rise in operating expenditure plus rise in tax payments burnt the bottom line leading TranAct Technologies to report net loss of $2.4 million for the Jun 2022 quarter.
Net revenues of the company for the second quarter of 2022 (2Q22) grew 35 percent on a year-on-year (YoY) basis at $12.6 million from $9.3 million, as reported by the company during the same quarter in the previous year.
Bart C. Shuldman, CEO of TransAct, said: "After attending three important trade shows over the last several months and with our new sales leaders, we are adding quality leads and trials and building a robust pipeline."
The cost of sales of the company grew 22 percent on a YoY basis at $7.2 million from $5.9 million, whereas Gross Profits of the company inflated 58 percent on a YoY basis at $5.4 million from $3.4 million.
Significant rise in engineering-design and product development cost, sales & marketing expenditure and general & administration expenditure, inflated the operational expenditure of the company 38 percent on a YoY basis at $8.4 million from $6.1 million.
"I am also particularly proud of our engineering, operations, and purchasing teams, who were tasked with finding more parts, re-designing products, and assembling as many printers as they possibly could, which they absolutely did. We began ramping up our production of POS and casino printers in May 2022, shipped many printers in June 2022 and expect near record levels of production and sales of these products in the second half of 2022," added CEO Bart C. Shuldman.
This resulted in an operating loss of $3.2 million from $2.7 million, a significant rise of 12 percent on a YoY basis.
Tax payments further blurred the bottom line, recording a growth of 31 percent on a YoY basis at $0.9 million from $0.7 million.
US-headquartered TransAct Technologies is a global leader in developing software-driven technology and printing solutions for high-growth markets including restaurant solutions, POS automation, casino and gaming, lottery, mobile, and oil and gas.