AGEM Index fell by 32.33 points in August 2022 to 831.50 from 862.93 in July, a 3.7 percent decline on a month-on-month basis.
The dent in AGEM's index was primarily due to an erosion of share prices on a month-on-month basis of the heavyweight components, including Crane Company and Konami Corp.
The erosion in the index on a year-on-year basis was 17.9 percent, a dent of 181.38 points from its Aug 21 index mark of 1,021.89.
During the latest month, seven of the 12 AGEM Index companies reported stock price decreases, which resulted in eight negative contributions to the AGEM Index and four positive contributions.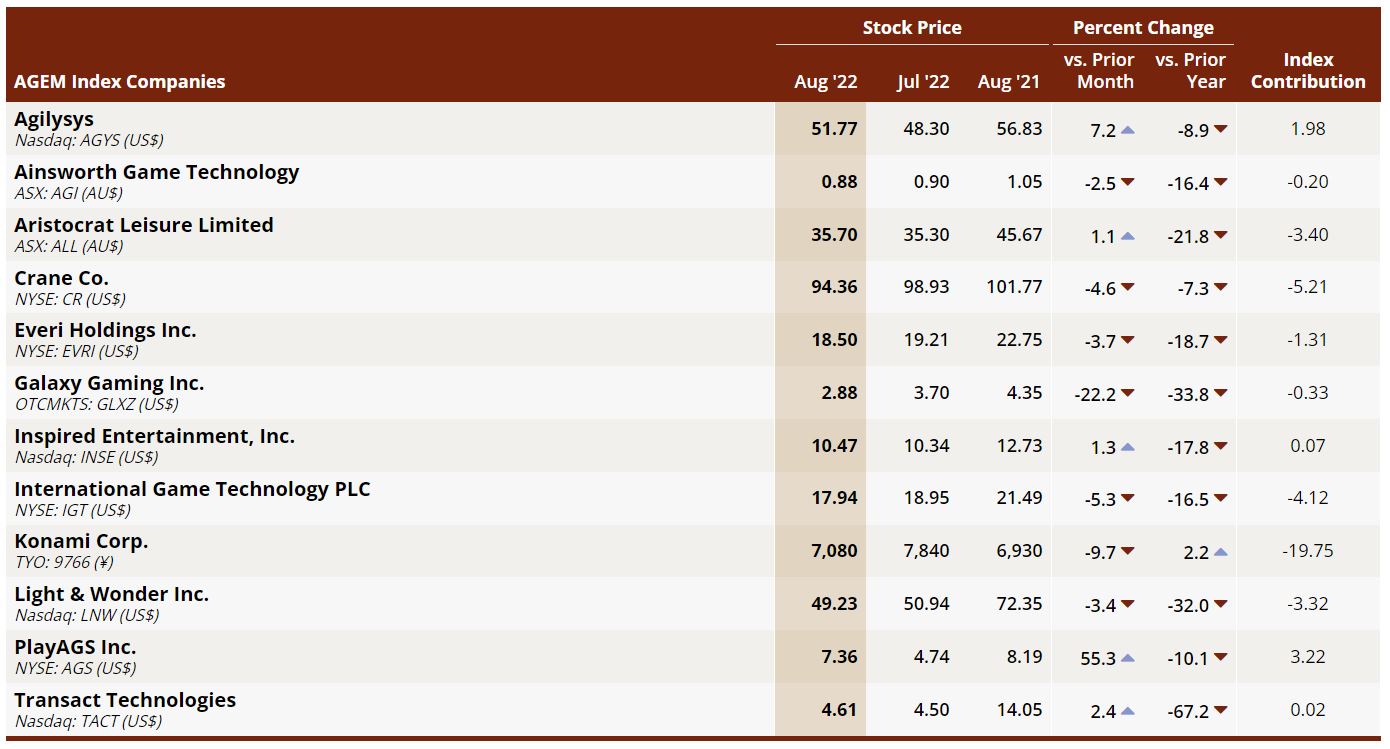 The largest negative contributor to the monthly index was Konami Corp., with a 9.7 percent dip in the stock price, leading to a 19.75-point loss to the index.
The share price of Konami Corp improved on a year-on-year basis, up 2.2 percent at $7,080 from $6,930 per share, but could not cushion the erosion of the AGEM Index.
Whereas Crane contributed a 5.21-point decline in the index due to a 4.6 percent decrease in its stock price. The share price of Crane dipped 7.3 percent on a year-on-year basis from $101.77 to $94.36 per share.
Despite the dent of 10.1 percent in the share prices on a year-on-year basis from $8.19 to $7.36 per share, the largest positive contribution to the index was PlayAGS, whose 55.3 percent increase in stock price equated to a 3.22-point gain for the AGEM Index.
Whereas all three major U.S. stock indices saw month-over-month decreases in August 2022, the Dow Jones Industrial Average fell by 4.1 percent from July, while the S&P 500 declined by 4.2 percent, and the NASDAQ fell 4.6 percent over the latest period.