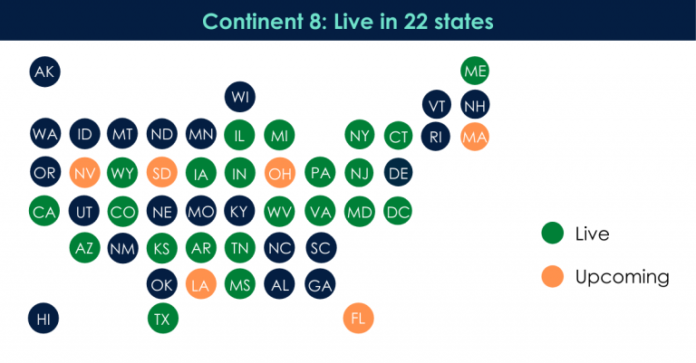 We're excited to be exhibiting once again at G2E Vegas, October 5-7 2021, at Booth #2413. Our experienced team attending the show includes our Managing Director for the region Nick Nally and Sales Directors Jorge Morales, Graeme Price and Chad Ives alongside a number of colleagues who are eager to meet with customers, partners and prospects face-to-face.
It's been an exceptionally busy period for Continent 8 in the region; we are now live in 22 states with more sites set to launch this year, with a first-to-market strategy to enable customers to capitalise on the fast-growing market.
In the US we offer a range of service options including private cloud which includes compute, storage and network services which we make available on a dedicated and managed infrastructure platform. We can also support AWS Outpost deployment, bringing customers AWS Services in a dedicated 42U rack which is managed via the AWS UI and tools.
In New Jersey, dubbed the sports betting capital of the world, we offer a regulatory approved public cloud, enabling compute, network and storage as a service on a shared platform with dedicated connectivity for regulatory monitoring as well as in-state and out of state public internet and private MPLS services.
Our US sites are connected on one secure network, which spans 70+ locations globally. This includes our increasing presence in the LatAm market which began with the launch of our cloud offering in Colombia in 2020.
In the past 12 months we have also enhanced our product portfolio of Connect, Manage and Secure. In particular, our security solutions continue to develop to reflect the ever-changing cyber security landscape, and we have recently launched our Managed Threat Prevention, Detection & Response offering; a complete end-to-end proactive threat protection solution combining advanced SIEM/MDR/EDR/SOAR/Machine Learning technologies with highly-skilled 24/7 SOC resources.