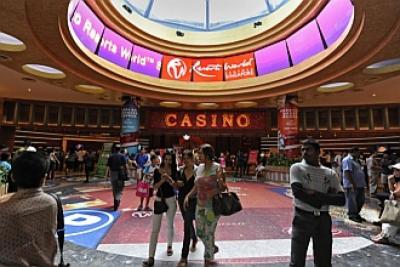 Genting Singapore's Q2 net profit fell by 5 percent, missing analysts' expectations, dragged down by a poor performance in the mass market and higher bad debt levels. 
Net profit came in at $168.4 million, while total revenue rose 14 percent to $636.8 million. Gross gaming revenue jumped 22 percent to $441 million, boosted by a higher-than-normal hold rate in its VIP business of 3.7 percent vs 2.85 percent historically. It posted an impairment on gaming receivables stood at $47.3 million. 
Adjusted EBITDA rose 11 percent to $294.3 million, though on a hold-adjusted basis, it would have declined 20 percent to about $230 million.
"Underlying mass gaming business experienced significant declines in the quarter, and would have been further impacted if not for considerable increased spending to tap the regional markets," the group said. "Adding to the decline were the effects of a slowing local economy and within the region."
Genting Singapore, the operator of Resorts World Sentosa, one of two IRs in the island state, said it is cautious about the outlook.
"The seemingly strong growth in gaming revenue was largely driven by a favourable win percentage," it said. "The underlying revenue drivers have been impacted by various factors that will continue to affect our business through the rest of this year. We maintain our cautious stance on the premium segment as the regional economic environment faces uncertainty and will impact consumer confidence."
Bernstein said the adjusted EBITDA forecast missed its estimates by 7 percent and expressed concern about the rising receivables, which it said were back to 2016 levels.
"Bad debt expense as a percent of accounts receivable is also a staggering 31 percent."