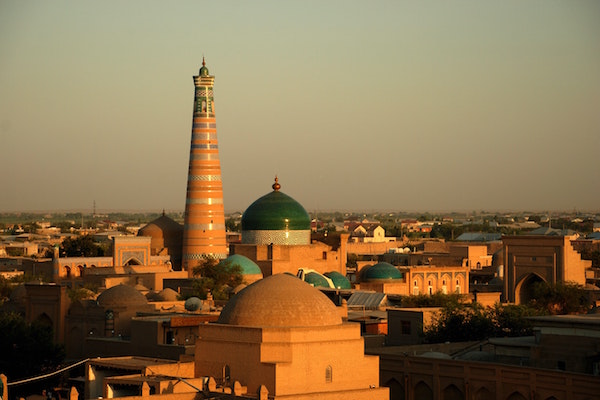 Uzbekistan is expected to be the next nation in the Commonwealth of Independent States to legalize some forms of gambling, while Ukraine's draft law opening up its market is due to have its second reading this month, creating new opportunities in Eastern Europe and Central Asia.
Towards the end of last year, Uzbek President Shavkat Mirziyoyev put legislation in motion to open up the country to sports betting to raise funds to support its sports teams, in particular football. That legislation is expected to come into force in 2021, with draft rules scheduled to also make their appearance this month.
The draft may also contain the possibility to open up to online poker and casinos, though at present casinos are not likely to be on the agenda.
"There has also been talk about which verticals should be included within the scope of the legalization. Talks are ongoing, but my gut feeling is that it will be limited to sports betting and lotteries," says Ilya Machavariani, head of the Russian and CIS Gambling Practice Group at Denton's law firm in Moscow.
Machavariani says his advice was to use Malta as a framework for the legislation. In terms of taxation, there will be a system similar to that in Russia, where all sports betting licensees will be required to make contributions to sports organizations.
The central Asian nation is home to about 30 million people and its economy is expected to eke out growth of 1.5 percent this year, despite the global slump due to Covid-19. Over the past four years, President Mirziyoyev has pushed to reform the economy and attract foreign investment.
After years of relative economic isolation, in 2017–18 the authorities liberalized the trade and exchange rate regimes, liberalized many prices, improved statistics, and reformed government operations. While acknowledging much more needs to be done, the International Monetary Fund said its efforts had been "impressive."
"It's a very interesting market and will compete with Ukraine, which is also likely to open up," Machavariani said, adding that during the ICE Totally Gaming Show in London in February Uzbekistan and Ukraine were amongst the hot topics, with big names showing interest.
The improvements in the economy have gone hand in hand with better telecommunications infrastructure.
"The local industry would have good growth potential considering the year-on-year increments that have been registered in terms of internet and mobile penetration, which currently stands at 55 percent and 76 percent respectively, BtoBet CEO Alessandro Fried said in an emailed interview.
"In fact recent statistics published by Hootsuite indicated a 7.1 percent increase in terms of internet users, and a 0.9 percent increase in mobile connections. The improving infrastructure is further underlined by the year-on-year change in the average speed of fixed internet connections (+122 percent)."
Although the current legislation doesn't include land-based gaming, Fried said the government may reconsider once it realizes the revenue potential.
"Expanding the legislation to allow casino activity must not only be considered as an economic opportunity in terms of increased tax revenues, but a means of safeguarding the investments that will be made in the local iGaming industry, and the players themselves," he said. "A widespread regulation covering all the industry's different verticals would ultimately assist the government in fighting the grey or black markets, with the players provided with a means to entertain themselves in a properly regulated scenario. A grey or black casino market would not guarantee players access to certified RNG games, which are a requisite to all strongly regulated markets."
"So eventually I think that whilst the sports betting industry will be the first sector to benefit from this shift toward regularisation, eventually this will have a domino effect on all the industry's verticals."
That said, there is still strong opposition in some parts of the government to legalizing gambling and both Fried and Machavariani said they expected regulations to be fairly stringent, especially from an Anti Money Laundering and responsible gambling perspective.
"There is a concern that the industry may be too prohibitive and won't create the base for a good industry framework, but the government intention is to adopt best international practices" Machavariani said.
Ukraine's draft gambling bill is wider than the legislation being proposed by Uzbekistan and will allow both online and land-based casinos; online and land-based sports betting; online poker; slot machine halls; totalisator and lottery.
Casinos will be restricted to five-star hotels, or to special gambling zones designated by the government. The annual license fee for land-based casinos in the capital, Kiev, will be EU1.92 million, while elsewhere it will be set at EU960,000.
In turn, the fee for sports betting and online casino licenses will be EU2.88 million and EU624,000 accordingly. It should be noted that these fees will be downsized as soon as a system of online monitoring is put in place, which is going to take 2 – 3 years. After that, the government is going to implement a GGR-based taxation system, hence the license fees are going to be lower.
The draft law sets out requirements for the number of gaming machines and employees, depending on the size of the city in which the facilities are located.
Elsewhere in the CIS, the picture regarding gambling is mixed. Kazakhstan has opened its market to betting terminals and casinos, however online gambling has been strictly prohibited except for sports betting. Georgia maintains a strict ban, only allowing some kind of raffles for charity..
Still, the CIS and its satellites are seen as having good potential with a population of more than 200 million.
"The potential of the local industry is exemplified mainly in Russia, which has, in a few short years, gone from a closed market to one with a framework for online bookmaking," Fried said. "The true extent of this potential came to light with the World Cup which took place in 2018."
He said a survey conducted by Russian online gambling affiliate Legalbet indicated that the traffic for one particular bookmaker, Parimatch, increased by 400 percent in the months preceding the kick-off to this sporting event.
"Based on these figures it is easy to establish the huge potential of the local industry, and how this could well be indicative for the whole region," Fried said."
"Russia is simultaneously the most lucrative and challenging market in the CIS," Machavariani added. "However, right now Russian gambling legislation is under careful review by government officials and main gambling stakeholders and experts (this review is a part of a country-wide process) – there are hopes that by 2021 entering the Russian market would still be lucrative, but rather less challenging as the legislation is going to be simplified,"