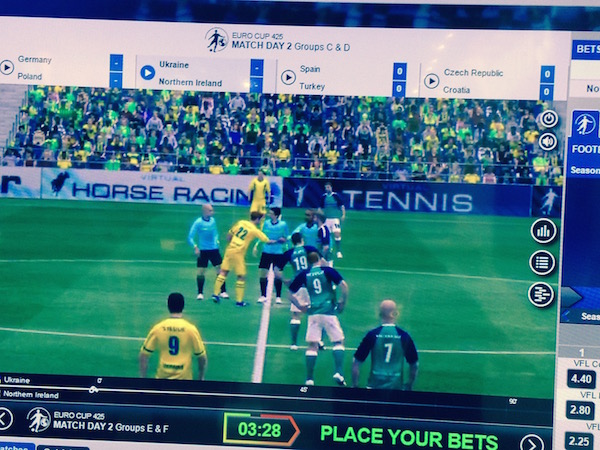 Dismissed in the past by skeptics and naysayers as "animated roulette," virtual sports have come a long way since their early days of crudely drawn graphics and limited betting options and are firmly taking hold in Asia. 
With the deployment of motion capture technology and 3D animation, combined with the harvesting of real sports data to provide the full gamut of betting markets and odds – including in-play wagering – virtual sports have taken hold in a big way.
In fact, these simulated betting products are now firm fixtures at most online and land-based sportsbooks.
"Virtual sports have really taken off in the last 12-18 months, with our [Asian] customers quite overwhelmed by the turnover they have seen," says Michael Maerz, managing director for Asia at sport data and virtual sports provider Sportradar. "They [virtuals] are hugely popular throughout Asia." 
Likewise, Yariv Lissauer, CEO at virtual sports supplier Leap Gaming, says he has noticed a pronounced increase in demand from Asian operators for virtual sports products.
Asia is a huge continent, of course, so tastes vary, though the most popular virtual sport by some margin is soccer, as is the case in much of Europe. Due in part to the popularity of the NBA in huge markets like China and Philippines, virtual basketball tends to be the second most popular product in the region. 
While Sportradar is currently working on virtual baseball given its huge appeal in markets, such as Japan, Korea and Taiwan. Virtual cricket involving eight Indian teams competing in a T20 league, is also in the pipeline to cash in on the obsession with the sport on the Indian subcontinent.
One reason for virtual sports' growth in Asia of late has been the evolution of the graphics and overall realism of the product. Indeed, gamblers are more likely to place wagers on an artificial sports betting product if it closely resembles the real thing. While Asian gamblers still tend to prefer live casino over RNG gaming, lifelike virtual sports products these days are almost indistinguishable from the real thing. 
"The more polished and the better the product looks will increase its authenticity and how trustworthy it is in the eyes of the users," says Lissauer.
To help with this authenticity the use of a professional studio's motion capture technology, otherwise known simply as mocap, is now widespread in the industry. This involves kitting players out in skin suits with 'markers' attached so that dozens of HD cameras positioned around the field or court can record every precise movement. In fact, the positional accuracy of these mocap set-ups can get down to just 0.5mm. The technique is even used by certain suppliers to capture the movements of greyhounds and racehorses on the track.
Artists take the captured wireframe data and overlay human features and detailed kits to bring the in-game athletes to life. Stadia complete with fans are also painstakingly recreated, while audio and commentary add the finishing touches. "With our football, basketball and tennis [products] we had semi-professional footballers and basketball and tennis players in black suits wired up," Maerz says. "It was a process of over a month to get the real movements and plays, which essentially looks like a PlayStation game. The quality of the video is definitely something that is very much appreciated in the Asian market."
Sportradar's access to a trove of real sports data assists with the realism and with calculating probabilities. "Data will tell you what happens and how often," Frank Wenzig, managing director of gaming at Sportradar, tells AGB from the gaming division's main office in the German city of Bremen. "You need to reflect this in the video and enrich it with the right probabilities. For example, in a correct score betting market we have to understand how likely it is there will be a 1-1. But we have to consider that one percent chance there will be an 8-0. If we do not consider this then they may look like real odds, but they do not feel like real odds. That is distracting for our audience." 
As well as driving interest in real sports competitions, like soccer's Asian Cup or next summer's Euro 2020, operators find virtual sports offer gamblers options during lulls between matches or during the off-season. Virtual sports also serve a thick-and-fast menu of betting – 24 hours a day, seven days a week. For instance, Sportradar's basketball product offers some 3,300 fixtures per day with eight matches running in parallel. Users can bet on a new match every three and a half minutes.
And these days more and more virtual sports products offer in-play betting, which helps to drive engagement and increase revenues for operators. For instance, bettors can wager on every single point with many virtual tennis products, creating a new betting round every 10 to 25 seconds. "Live betting is a lot more attractive than the pre-match betting with real sports, so the logical trend is to follow this in the virtual sports world," Wenzig says. 
On-demand products also mean users can just bet and go rather than having to wait for scheduled events to start. These features offer that instant gratification that the younger generation of gambler craves.
While Lissauer quite rightly points to advancements in mobile technologies, coupled with 4G and now 5G connectivity, as having helped with the appeal of virtual sports, the investment suppliers have poured into products has been decisive. Squint your eyes and you could be fooled into thinking you're watching an actual televised sporting contest. This immersive experience can only help virtual sports to grow further in Asia and elsewhere.
Indeed, Wenzig insists the lines between computer-generated gameplay and real-world sport continue to blur. "Nowadays, virtual sports are a dedicated type of product. This will meld together with live betting and in the future people won't even know if it is real or virtual."