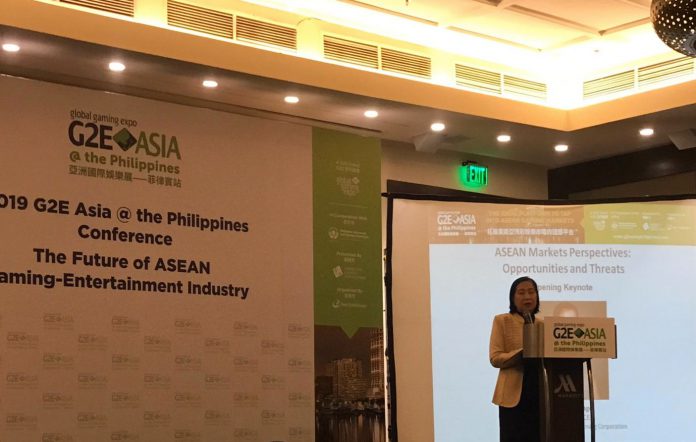 Philippine Amusement and Gaming Corporation chairperson Andrea Domingo on Tuesday said her agency will be focused on the sustainable growth of the gaming industry in the Philippines, by placing a halt on the acceptance of any new license applications in the foreseeable future. 
Ms. Domingo made the comments during the opening speech of G2E Asia conference in the Philippines, which opened today. 
"We don't want to overburden the industry by blatantly giving out licenses," said Domingo. 
"The President declared a ban on IRs and casinos in January 2018 and we have observed that. He lifted the ban in clark last year and we have observed that too, but even the Clark region has enough," she said.
Domingo said at the moment, there are two IRs in Cebu, one in Davao (owned by PAGCOR), six in metro manila, and a maximum of nine or ten in Clark.  
"Even in Clark we have stopped acceptance of any applications for new casinos," she reiterated.
Domingo also noted a halt in acceptance of any new POGO licenses, which has been in place for some time. Domingo said the aim is to mature the industry and PAGCOR, so that all of the regulations can be put in place. 
She also said she was confident that by the end of 2020, around 95 to 97 percent of issues relating to POGO, and its "dark side", including prostitution, kidnapping and finance, will be addressed. 
The regulator also issued a warning to igaming operators representing themselves as BPOs:
 "We have the formula to catch that," she said. 
On e-games and e-bingo, Domingo noted that licenses have also halted in areas they deem saturated.
"We want people to know that if it's overcrowded, there's no reason to put your money in, just go and invest somewhere else. These are the things we have been discussing with the board, and these are the things that we will be implementing by 2030. 
"But for all those that are here now, rest assured, that PAGCOR will do everything to support your and your profitability within the framework of the law.