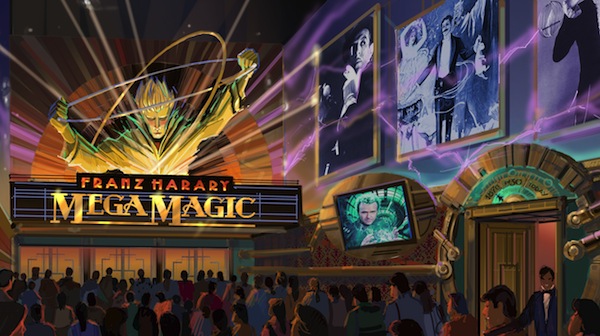 With the opening of Galaxy Entertainment's Phase II development seemingly doing little to generate additional traffic in Macau, the focus has now shifted to the launch of Melco Crown Entertainment's $3.2 billion Studio City property later this year.
Most analysts see the cinematic-themed property as the true game changer when it comes to boosting non-gaming facilities in Macau and therefore a better indicator as to whether the territory can diversify and attract a wider tourist base.
Construction on the resort, located next to the Lotus Bridge immigration point connecting Hengqin Island and a future station-point for the Macau Light Rapid Transit, is now advanced. The property's art-deco facade and design is clearly visible, with its giant figure-eight ferris wheel front and center.
The company says the resort will feature more non-gaming amenities than any properties currently on the market, with 95 percent of its components not related to gambling.
"We strongly believe that the continuous diversification of Macau's leisure and tourism offerings will lead to sustainable long-term growth," Melco Chairman Lawrence Ho told AGB in emailed comments. "Therefore, we are continuing our respective efforts through the development of Studio City, which is committed to contribute to the ongoing transformation of Macau into Asia's Entertainment Capital."
"We believe our unique offerings will create unique entertainment that appeals to visitors from mainland China, other parts of Asia and around the world."
"Having said that, we will also strive to remain competitive in our gaming business, as advancement in the non-gaming businesses will depend on success in our gaming business too," he said.
The resort will include Asia's highest Ferris wheel, Golden Reel; the world's first flight simulation ride based on the Batman intellectual property franchise, Batman Dark Flight digital ride; and the Warner Bros. Fun Zone which is packed with rides and interactive activities themed around popular Warner Bros. and DC Comics characters.
Other attractions include The House of Magic, hosted by acclaimed illusionist Franz Harary; a 5000-seat Studio City Event Center; a working TV studio known as Studio 8; and Macau's first Pacha Macau mega club, which brings Ibiza-style nightlife to Macau and Greater China.
In terms of retail, The Boulevard at Studio City is a 350,000 sq. ft. immersive retail entertainment environment.
"We have planned and developed our property to engage a much broader group of leisure entertainment seekers, those who want emotionally engaging experiences that they can share with friends and family," Ho said.
Despite the clear focus on non-gaming, analysts still don't expect Melco to obtain all of the gaming tables it had requested from the government. Galaxy Entertainment only got 150 tables of the 400 it had asked for, as the government sent a clear signal it was going to stand by its policy of capping annual table growth at 3 percent a year.
Melco Crown in the latest Studio City quarterly report said that if the new property was allocated "fewer than 400 tables," it would have "a material adverse effect on our cash flow."
It could also affect its ability to meet "certain conditions and requirements of the Studio City Project Facility," the report said. According to some media reports, the debt covering Studio City has a covenant that states the casino needs a minimum of 400 tables.
Galaxy has solved the problem by moving tables from other properties, however such an option is unlikely to be as palatable for Melco, which only owns 60 percent of the project and therefore would not get the full revenue stream from the tables.
The dilemma has led to speculation that Melco may seek to buy out its minority partner, New Cotai, in Studio City. Adding to that speculation was the decision this month by the company to refinance $1.75 billion in credit facilities, giving it the financial firepower.
Analysts at Sanford Bernstein said the new credit facility will provide the company with over $1 billion in additional liquidity, on top of the $1.7 billion unrestricted cash on hand.
"We believe the additional liquidity may be used in relation to the potential acquisition of the 40 percent JV partner in Studio City, which we argue could be a near-term catalyst," analysts Vitaly Umansky, Simon Zhang and and Bo Wen wrote. "By acquiring the minority interest in Studio City, MPEL may be more willing to reallocate under-utilized tables from City of Dreams and Altira to Studio City."
The analysts estimate it may cost the company $1 billion to buy out the minority interest.
Apart from Studio City, the fifth hotel tower at City of Dreams designed by the award-winning, "Queen of the Curve" in architecture, Dame Zaha Hadid, is under development, and a further tourist attraction, says Ho.
"Overall, we strive to offer thrilling experiences that our visitors cannot find anywhere else. No other operator can boast this type of true commitment to the government's long-term vision for Macau. And we are proud of this fact," said Ho.