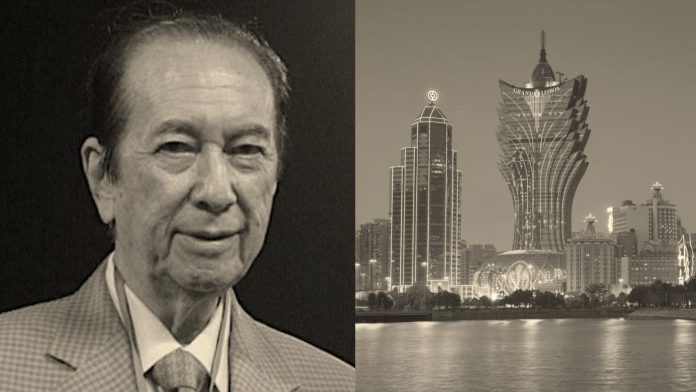 The death this week of Stanley Ho, the towering figure of the gambling industry in Macau, produced global headlines, and for good reason: He had helped shape history, both in southern China and in much of East Asia.
Today, Macau has become synonymous with gambling in the minds of many people and indeed it is far and away the biggest and boldest gambling capital, not only in the region, but in the entire world.
More than any other single person, this was the work of Stanley Ho, the man who held Macau's monopoly on the gambling industry from 1962 until 2002, or for forty years.
The gambling empire that Stanley Ho built remains very big and very rich, though its sheer dominance has eroded significantly since 2002.
To simplify a complex picture of corporate ownership, the main company that represents Stanley Ho's legacy today is SJM Holdings Limited, one of the six gambling industry concessionaires, along with Galaxy, Melco, MGM, Sands, and Wynn. SJM's share of the Macau market has been declining steadily since it lost its monopoly, at last measure accounting for only 13.3 percent of the territory's gross gaming revenue.
However, it should also be noted that at least two of Stanley Ho's children are also powerful figures in Macau in their own right. Pansy Ho, who is currently the most influential of the direct successors to his empire, is also the co-chair and executive director of MGM China.
The member of the family that is most familiar in Japan is Melco Resorts & Entertainment Chairman and CEO Lawrence Ho, who is also a son of Stanley Ho. Lawrence, however, is something of an unique case, since his Melco is a business empire that he built more-or-less separately on his own. Lawrence stands apart from the rest of the Ho family, not competing to be an heir to his father's SJM empire.
The clarity of Melco's leadership, however, is certainly not the characteristic of SJM Holdings and its associated companies. During his long life, Stanley Ho had four wives and he fathered seventeen children, of which fifteen survive. Long before his death finally came this week, many of these heirs had become rivals for money and power.
As noted, daughter Pansy Ho is currently believed to be the most influential of his heirs, but she also faces a serious rival in the person of Angela Leong, the fourth and final wife. Ho family politics are both complex and dark, and would be worthy of more than one fiction novel if it weren't real life.
At any rate, in recent years and going forward, the biggest question mark hanging over SJM Holdings is that of its future leadership. Will Pansy Ho tighten her grip on the empire? Or will her power be broken by Angela Leong or another rival? Or will the company just muddle along for years without leadership clarity?
Many independent analysts have not been impressed by SJM Holdings' approach to corporate governance. For example, a note this week by Bernstein Research stated, "In our view, instead of using Stanley Ho's retirement back in 2018 as an impetus to make governance and management changes, the company opted to further entrench the status quo, i.e., dysfunction, while placating various interests. A hydra-like three headed co-chairman group and the elevation of entrenched management was not an indication that any shake up at the company for the benefit of independent shareholders was forthcoming. The byzantine corporate ownership and governance structure of SJM was not alleviated by this agreement. The current board is comprised of three co-chairman with varying interests."
The note did not see any fresh clarity likely to immediately emerge from Stanley Ho's death: "If anything we could see greater infighting between various interested parties. Again, until we see substantive alterations to management and governance that will lead to fundamental changes to how SJM operates and increases their positioning in Macau's highly competitive market, we remain on the sidelines."
In the immediate future there are two events that analysts will be watching closely in order to gauge the future prospects of SJM Holdings.
First, there is a crucial Annual General Meeting scheduled for June 9 in which the top four executives of the firm are up for reelection: Daisy Ho, Angela Leong, Timothy Fok, and Ambrose So. If there is to be any immediate leadership shakeup, it should happen on that day.
Second, later in the year, the expected opening of the much-delayed Grand Lisboa Palace will represent SJM's major foray into the Cotai area of Macau. The firm has long hoped and expected that the Grand Lisboa Palace will finally arrest its market share decline vis-a-vis the other five Macau concessionaires, and that it will launch a new successful chapter in what will now be the post-Stanley Ho era.
There are a lot of doubters about whether or not SJM Holdings has what it takes to meet the challenges of effective corporate governance, but no one doubts that the Ho family still possesses ample financial and other resources should they succeed in getting their house in order soon. 
(AGB Nippon)