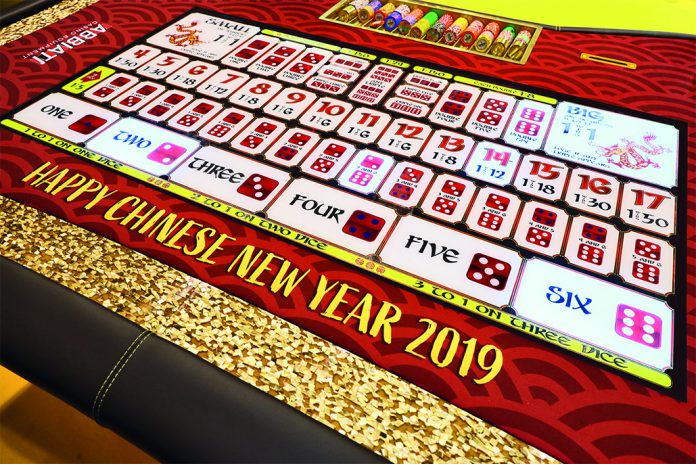 Abbiati Casino Equipment are continuing their R&D efforts, through the development of new products with enhanced technology, designs, and materials.
The company has confirmed their presence at G2E Asia 2019, with a nearly doubling of their exhibition area.
Featured at the stand this year is their new Asian Style Baccarat table with brand-new RFID technology "PJM Perfect Pay" realized in partnership with Walker Digital Table Systems.
The table is manufactured with refined materials with prestigious finishing along with the modern details such as USB chargers and Wi-Fi charging. The layout is laid with a prestigious microfiber cloth and includes the new Perfect Pair game by WDTS.
At stand A519, visitors will have the opportunity to see the new Sic-Bo table, the first time shown in the Asia market.
A new Black Jack table will also be presented: it features an elegant lighting system on table bases and will present the new game Side-Bonus Baccarat by Mr. Stephen Au-Yeung and the new Mini Punto Banco Winning Number game by Mr. Diodato, the Italian game inventor.
"Casinos are incrementing their needs of security, especially tracking of casino currency. Our chips and plaques are featured by innovative security features, which make our products extremely competitive in the market," added Mr. Giovanni Abbiati, president and founder of the company.
Abbiati will present their brand-new Value Tie chips range: the patented line is featured by currency with holoprismatic effect in the decal that reinforces the security of casino Value Chip.
All casino currency provided by Abbiati is characterized by security features, as the last technology of 13.56 MHz PJM 3.0 RFID technology. Other technology features include security holograms, 3-in-1 UV sensitive colors, security features such as Laser Tracer technology, and Optical Variable Inks, just to name a few.
Visitors will be impressed with the new models of Abbiati roulette wheels. A new GLI-25 certified American Roulette Laser Wheels Roulette Wheel with an upgraded patented invisible laser technology (Class 1A). The new wheel is named K-Wheel and it has a new ball track profile that enables roulette wheels to achieve a higher level of performance with increased security. It is part of an innovative lighting system, which also involves Winning Number Displays and table base lighting to increase security and game control.
A second brand new roulette wheel has 18 double numbers for the new game called Roulette-18 designed by the game inventor Stephen Au-Yeung.
All Abbiati tables and wheels come with a wide range of high-quality multimedia displays that connect directly to Abbiati's wheels and tables facilitating the control of all the game steps in real time and produce game performance data useful for the casino management.
"Asian operators are well aware of the new trends of the market and look for products that can ensure security and distinction to their own casino. Abbiati ongoing R&D maintains casino equipment that stand out in the market and anticipating their client needs," added Mr. Giorgio Abbiati.
G2E Asia visitors are welcome to visit Abbiati's stands A519 & A525, where they will find all the information about Abbiati products.