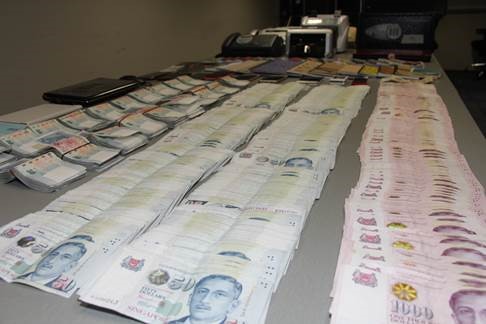 Asia's gaming jurisdictions are moving forward in improving their regulations on money laundering (AML) and financial crime, though wide disparities remain and operators in those countries that are lagging need to ensure they are taking the right steps towards compliance.
The United Nations has estimated that financial crime amounts to between two and five percent of global gross domestic product (GDP), which tops out at between $800 billion and $2 trillion globally.
In a recent interview, Bharath Vellore, Managing Director, Asia Pacific, Accuity, said that benchmark percentage to GDP ratio could probably be applied to individual countries to get an idea of the scope of the problem in Asia.
Casinos are particularly vulnerable and even in highly regulated markets, such as Singapore, problems have emerged. Earlier this year, Las Vegas Sands' Marina Bay Sands found itself at the centre of a probe by the U.S. Justice Department and Singapore's Casino Regulatory Authority over its procedures.
The probe followed a complaint by a Chinese gambler, who claimed unauthorised third-party transfers. The operator settled a lawsuit with the client in July, who was demanding S$49.1 million ($6.5 million).
"Casinos are very vulnerable," he said. "It's recognised by the regulators that it's a business that provides many ways for financial crime to be facilitated and has certainly come to the fore with regulators."
The business is cash intensive and deals with large numbers of transient visitors, many of whom demand a certain level of privacy. "There's also an issue with third-party payments, with the winnings sent to a third party. It's very much a change of ownership scenario that money launderers love."
Macau has made major strides since a 2013 U.S. Congressional Report estimated that $202 billion in illegal funds were being laundered through the territory, fuelled by the widespread use of junket operators facilitating cross border transfers.
In its follow-up Mutual Evaluation Report released last year, the Paris-based Financial Action Task Force found that Macau was compliant for 22 and largely compliant for 18 out of the group's 40 recommendations. It's the only jurisdiction in Asia to have achieved this.
That's not to say there are not still concerns. Although the proportion of gambling revenue that has come through the junkets has fallen from around 70 percent at its peak to closer to 46 percent now, it's still a large chunk of business.
Macau's revised AML guidelines that were introduced in 2016 aimed to introduce greater accountability and transparency among junkets. They require improved reporting of large, or suspicious transactions; for the operator to supervise compliance of their junkets and stipulated more oversight of transactions, especially when it concerns politically exposed persons.
"Casinos are working with the junkets to ensure they get the information on Know Your Customer, but they have expressed how difficult it is to get this information. The casinos are trying to make these hard choices as to who to work with."
Elsewhere, there have also been significant improvements. In the Philippines for example, casinos were brought under legislation after $80 million from a heist at Bangladesh Bank found its way into Manila's casinos.
Vellore says that the region's regulators on the whole have been serious and getting more serious.
"Singapore has put more in place, but there is more that it can do and I'm sure regulators are looking to address. We are also seeing a growing interest in the Philippines. They are becoming more and more active from a regulatory space."
However, Cambodia, with its multiple casinos, presents considerable concern.
"The illicit funds come from drug trafficking, human trafficking, corruption. So when you see where Cambodia is located you would feel that there's a high risk of money being laundered through its system. With that high risk, what you'd want to see are tight and well-defined regulations and law enforcement to ensure they are being complied with."
"The industry also needs to understand what the money laundering risks they are exposed to and how they comply. I would say there is a lot of work to be done in all of those three areas and that is concerning."
When it comes to handling compliance, Vellore says technology is the operators' friend. Advanced AI-based systems are able to screen clients quickly and from multiple sources, enabling the operator to build an accurate client profile and monitor whether the person is politically exposed or otherwise a risk.
Once the due diligence has been done you will understand the risks and can calculate the type of transactions you can expect making it easier to flag suspicious activity.
Vellore says the online sector in particular has welcomed such tools.
"We've had online gaming companies as our customers and they are the ones who are very excited about bringing in new technologies to help them. They have been very proactive in putting up their hands up and saying they want to use these technologies. I see them as very excited about it."