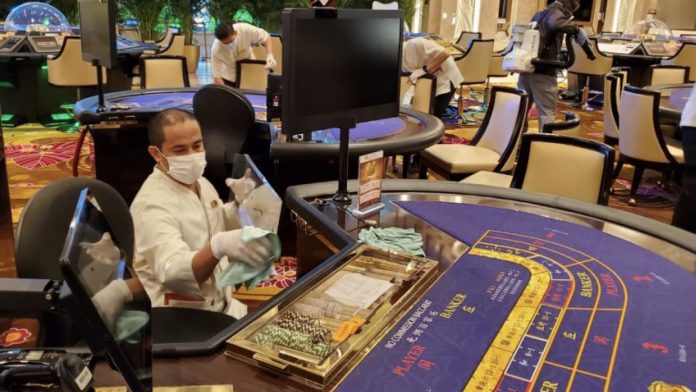 Property EBITDA of Macau's six operators was down 97 percent from its pre-Covid levels, according to an aggregate of results from Deutsche Bank.
The firm said the situation has deteriorated from the second quarter, when EBITDA was down 83 percent from the equivalent period in 2019.
Deutsche Bank calculates that Las Vegas Sands, "other concessionaires," Galaxy Entertainment and Melco Resorts & Entertainment all gained in their EBITDA market share in the quarter at the expense of SJM Holdings and Wynn Resorts. The firm didn't specify who "other concessionaires" were.
In terms of gross gambling revenue market share, Las Vegas Sands, Galaxy and the other concessionaire category were also gainers in the mass market, over Melco, SJM and Wynn, which lost ground. In the VIP market Wynn, Galaxy and other concessionaires edged ahead over Melco, SJM and Las Vegas Sands.
The third quarter results reporting season wrapped up on Thursday, with Galaxy the last to report its results. Instead of the sharp V-shaped recovery many had been predicting for Macau, the process has been protracted and this quarter's results have been the worse so far this year. Fresh outbreaks of Covid in August and September saw visitation slump as border testing requirements and quarantine measures for visitors returning from Macau to Zhuhai were reimposed.
Melco CEO Lawrence Ho, who at the beginning of the year was optimistic of a swift rebound, now expects Macau to be range bound for the next six to 12 months as China continues to pursue a zero-Covid policy. He said the company is fully expecting there to be further cases.
Deutsche Bank's figures show that industry margins in the latest quarter contracted by 2,570 basis points from the same period in 2019, while overall revenue was down 70 percent. As a result of strict cost controls, operating expenses were down by 34 percent.
Overall VIP volume was down 83 percent from pre-Covid, however, it is up 122 percent from last year. Mass revenue is down 68 percent from its prior level, but has surged 394 percent from last year.
Galaxy in its report said that it has seen strong pent-up demand since border controls were once again lifted from Oct. 19, while Macau has seen daily visitor numbers top 50,000.
However, almost half of China's provinces have now seen Covid outbreaks and are experiencing travel restrictions and lockdowns as Beijing's rigid zero tolerance policy continues. China is looking increasingly isolated in its determination to wipe out Covid, as countries around the region pick up, prompting some observers to urge a rethink.