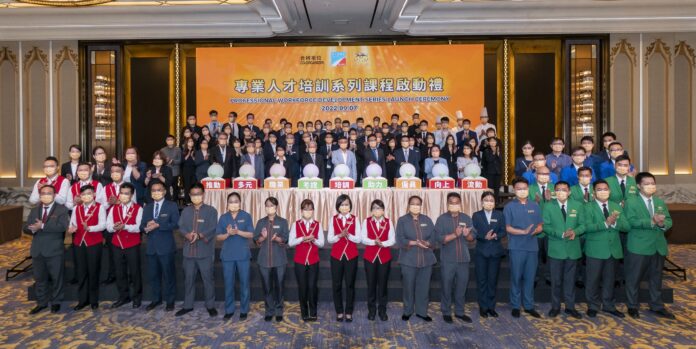 With an aim to provide more targeted training for different types of professionals, MGM collaborated with the Macao Labour Affairs Bureau (DSAL) again to launch the "Professional Workforce Development Series" for team members.
With nearly 50 training courses offered in total, the Series is categorized into three divisions, namely "Occupational Quality Training", "Professional Certification" and "Career Development Program".
This year, the Series is also extended to new professional areas, including "Housekeeping Occupational Quality Training Program", "Macau Facility Management Technician Occupational Certification Program" and a series of professional certifications.
An estimate of over 8,100 MGM team members will receive professional training from the Series.
During the ceremony, MGM set up a designated area for team members of Facility Management, Housekeeping, and Food and Beverage, who have attained their professional certifications, to showcase their learning outcomes and skills to the guests. On the same occasion, MGM also hosted a food safety seminar for representatives of local food and beverage businesses, followed by a tour of its back-of-house area to learn about MGM's food safety standards. It was to encourage them to obtain food safety qualifications to enhance their overall competitiveness.
Hubert Wang said, "All-round talent development is a commitment MGM has made to its team members. We have established a strong partnership with DSAL to provide innovative and comprehensive training for members of different professions – this year, we have once again become the first in the industry to introduce a brand-new training program for our housekeeping team members. With stronger talent development ties established between Guangdong and Macau, MGM will invest even more resources in cultivating talent in Macau and the Greater Bay Area (GBA). Besides, we are honored to have taken part in the Guangdong-Macao "One Test, Multiple Certificates" Talent Assessment Model and Skilled Professional Talent Assessment," where our team members were invited to be the judges of the scheme, which sets another testament to our endeavors. We will continue to support the SAR government and the GBA in nurturing talents and contribute to the growth of our industry."
Occupational Quality Training
MGM and DSAL started co-organizing "Occupational Quality Training" in 2016, aiming to enhance team members' professional capability and awareness of occupational ethics and service quality. The Training includes a lineup of industry-first programs, including "Food and Beverage Occupational Quality Training Program," "Facility Management Occupational Quality Training," and the new "Housekeeping Occupational Quality Training Program."
Professional Certification
The Professional Certification program, rolled out by MGM and DSAL in collaboration with various professional organizations, encourages team members of different departments to obtain professional qualifications. After launching a lineup of food safety courses with DSAL and the Macau Food Safety Management Association, this year MGM added another new course, the "Macau Facility Management Technician Occupational Certification Program." To nurture talents for Macau's economic diversification, the Company has also sent team members to enroll in the Guangdong-Macao "One Test, Multiple Certificates" Talent Assessment Model and Skilled Professional Talent Assessment."