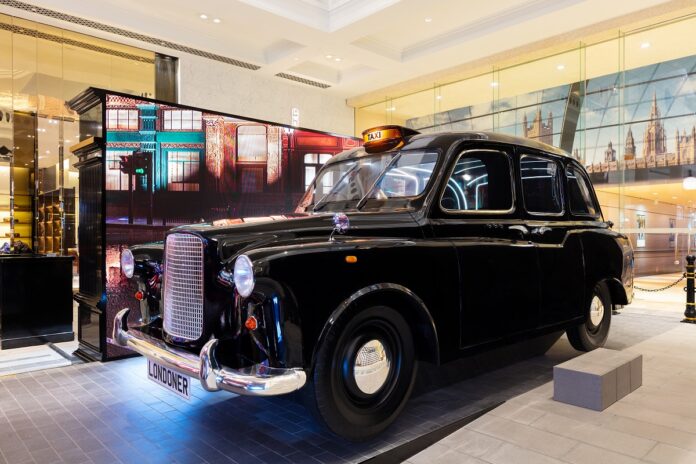 Londoner Moments, a collection of British-themed interactive Instagram installations at The Londoner Macao, has received a Silver Stevie Award for 'Brand Activation'in the Brand & Experiences category at the 19th Annual International Business Awards.
Composed of six stunning interactive attractions across The Londoner Macao, Londoner Moments recreates classic British landmarks, symbols and figures to curate fun-filled experiences.
Guests can sit in a giant tea cup entitled It's Tea Time, embark on Black Cab Escape with a holographic David Beckham to the British superstar's favorite spots, and take a Walk with the Stars over the famous zebra crossing near the legendary recording studio in London and claim their place in Rock 'n' Roll history.
They will be amazed by Double Decker Adventures as the classic red London bus magically comes to life, can watch the playful corgi Londi and her best friend Bobby the Bulldog go on all sorts of mischievous missions in The Londoner Carriage, and stroll down Londoner Magical Alley to appreciate spellbinding interactive artworks.
Sean McCreery, Senior Vice President of Resort Operations of Sands China Ltd., said: "Londoner Moments presents quintessentially British Instagram-ready characters and themes with state-of-the-art technology, perfectly interpreting The Londoner Macao's vision of 'Bringing the Best of London to Macao.' This Silver Stevie Award is great recognition for all our team members, and will inspire us to offer more innovative entertainment options to guests."
The Londoner Moments attractions were created over two years with the collaboration of multiple technical, construction, production and creative teams around the world, and immediately become hot spots for selfies and social media posts on their launch.
The IBAs are open to all organizations worldwide and include categories to honor accomplishments in all aspects of work life.
As a program of The Stevie Awards based in the United States, IBAs have become one of the world's most coveted prizes.
The 2022 competition attracted more than 3,700 nominations from organizations of all types. More than 300 professionals around the world reviewed and rated nominations to determine the winners of the Gold, Silver, and Bronze Stevie Awards.