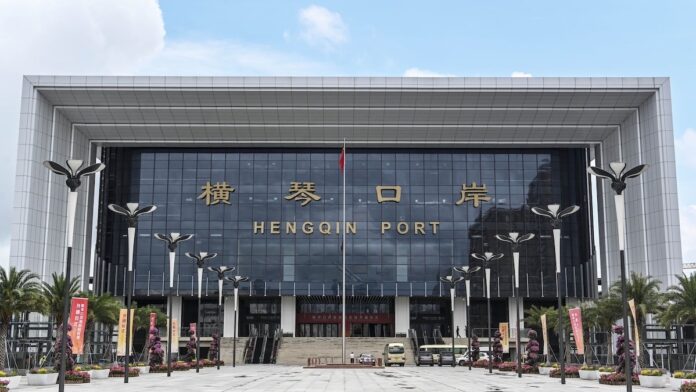 Beijing has set out its blueprint for the future diversification of Macau through a joint cooperation master plan on Hengqin, though at present it's long on vision and short on detail as to how the goals will be achieved.
The Master Plan of the Development of the Guangdong-Macao Intensive Cooperation Zone in Hengqin calls for intensive efforts to develop the island adjacent to Macau.
The focus will be on the "appropriate" economic diversification of the special administrative region.Industries that will form part of the plan include Chinese medicine, high-end manufacturing, MICE, technology and research and cultural tourism. It has said it will provide fiscal incentives to encourage investment, as well as easing border restrictions to facilitate the free movement of people.
"One thing everyone here is saying is that it's short on details," said Ben Lee, managing partner of iGamiX Management & Consulting. "There are no pathways as to how they will achieve the stated objectives."
One of the key issues will be that Macau doesn't appear to have any major competencies in the areas which are deemed as "appropriate" for development and its strict labour laws currently will make it highly problematic to import skilled talent. "One can only surmise that Macau's key contribution will be capital, the one thing we do not lack."
Lee points out that one of the major issues facing Macau at present is in the field of human resources, with very few professional visas being granted or renewed, even for academics, and even blue cards for expatriates and investors not being renewed.
Non-gaming push
The cooperation zone will be managed under a committee jointly controlled by both Macau and Guangdong, the province in which Hengqin is located. Beijing has been pushing Macau for more than a decade to diversify its highly gaming dependent economy.
The message was reiterated in a speech from President Xi Jingping in 2019 at a ceremony celebrating the 20th anniversary of Macau's return to China. President Xi said it was particularly important for Zhuhai and Macau to jointly develop Hengqin, in order for Macau to expand space for long-term development and create new impetus for development.
So where does Macau's gaming industry fit into this master plan?
"We speculate that one of the terms of the new gaming concessions would be to require them to invest in significant non-gaming in Hengqin, and that would help Macau fulfil its role as a key driver of commercial developments there," Lee said.
He adds this is not such a problem for the local operators, which are willing to take a long-term, holistic approach that may involve investing in a less profitable project in return for retaining their profitable gaming licenses.
It may be a harder sell to U.S. shareholders who study balance sheets on a quarter-by-quarter basis and expect investment decisions based on economic return on investment performance for almost every facet of their business, rather than government dictats.
Space for development
The development of the island has long-been seen as an essential step for Macau to expand its mass market segment, providing space for lower-end hotels and amenities. However, that was before Covid, when Macau generated $36.6 billion in annual gross gambling revenue for 2019.
Monthly GGR is still running in the mid-sixties percent below 2019 levels and visitation has been slow to improve. Analysts don't expect revenue to get back to the levels seen in April/May this year until October, due to disruptions from the latest Covid outbreaks in both China and Macau.
Although quarantine-free travel has been allowed from Mainland China since September last year, Beijing still has not reinstated the e-kiosks for applying for individual visit scheme visas or group visas. Until it does, analysts don't expect a meaningful recovery in revenue.
Lee says there is legitimate concern about opening the floodgates due to Macau's current health system – another reason he is sceptical about the ability to develop Hengqin as a center for medical tourism.
The Macau government will hold a press conference on Sept. 10 to outline the plans.