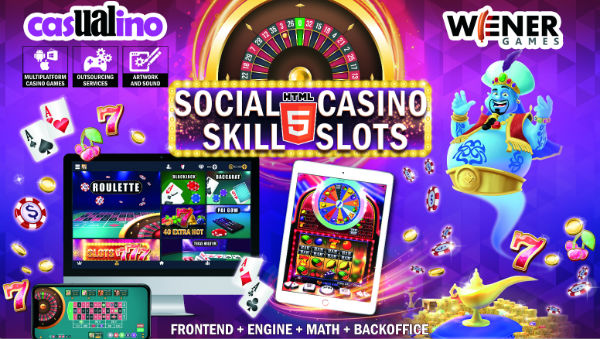 Wiener Games & Casualino are experienced architects and developers in the field of HTML5 skill slots, social casino games & casual to mid-core card and board games.
Our companies partner together and combine efforts to deliver innovative modern solutions and to elevate the entertainment business to new digital heights. We have a lot of creative ideas how to improve what's already on the market and how to introduce completely new ideas and game types.
We can deliver complete solutions for White Label Social Casino Platform and all types of casino games.
The main focus of our studios are casino games. Not only the well-known poker, roulette and slot games but also engaging social gambling games.
Our slots have casual skill version and gambling version. We have implemented various game mechanics along with classic slot gameplay.
Our social slots can be easily integrated in website and mobile apps, as well as in gambling websites and social casinos.
Our multiplayer platform supports most popular card and board games, combined with advanced matchmaking algorithms and extensive social features. Our games already succeed on the Apple Appstore and Google Play.
Using Frameworks like Phaser and PixiJS, NodeJS, MYSQL, PHP, iOS/Android, Actionscript, HTML/CSS, Javascript and many more, we create cross-platform compatible games.
We will support you in your projects whatever your needs may be: frontend development; back office solutions; artwork & animation; mathematics; RGS and RNG creation; 2D & 3D artwork; animation; visual effects; UI & UX and storyboarding.
We are fully concentrated and dedicated to what we do and we are always willing to go the extra mile (or sometimes even ten!).
We know how to lead projects and complete them with full client satisfaction. We always consult and advise our partners and clients on the right approach and technology for their projects and needs.
Visit the company at booth #AR30.