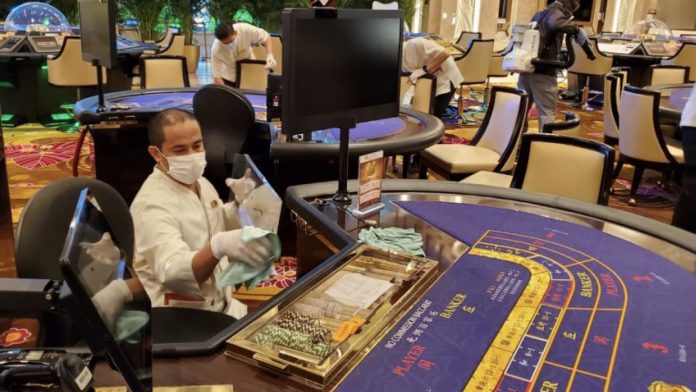 Macau's mass gaming market is likely to grow in the high single digits from 2022 once the pandemic eases, but growth going forward will depend on the ability to bring new attractions and products online, industry experts on a gaming panel said.
"I've always been a big believer that Macau is a build it and they will come story, so as long as Macau continues to develop new resorts and features and the border stays open, the prospects on the mass side are exceptionally strong," Bernstein Research senior analyst Vitaly Umansky said on a SIGMA Manila virtual roadshow.
However, the key question will be whether Macau is able to continue to add new attractions. SJM Holding's Grand Lisboa Palace is expected to open in June, while most of the operators have further later phase expansion plans in the works over the next two years.
But a lack of space may be a severe hindrance beyond 2024 to the ability to add features to pull in new visitors.
"Once these projects run out, I'm not quite certain the government is going to carve out a location within Macau to equitably allocate enough land to these six gaming companies," said Alidad Tash, managing director of 2NT8.
"High single digit growth for the next few years is very reasonable, but it remains to be seen what happens after."
Neighbouring Hengqin island has long been seen as the logical spillover zone for Macau, providing more space for hotels and non-gaming facilities. Galaxy Entertainment already has a project there, though it's unclear how much appetite there would be for investment in non-gaming entertainment over the border.
Although the government has pushed for non-gaming diversification and may even put conditions on the upcoming renewal of concessions to add more entertainment, both panellists agreed that Macau would never come close to the 50/50 split in Las Vegas.
Both also agreed that the VIP sector is not returning to its prior levels due to China's ongoing crackdown on capital outflows and the pressure on the junket sector.
Umansky said at the end of the day, it's not an issue for Macau given the mass market is much higher margin for the operators.
However, Tash raised the question as to the fact that even the premium mass player needs help into getting a few million dollars into Macau to gamble.
"That's one of the challenges we're going to have," he said.