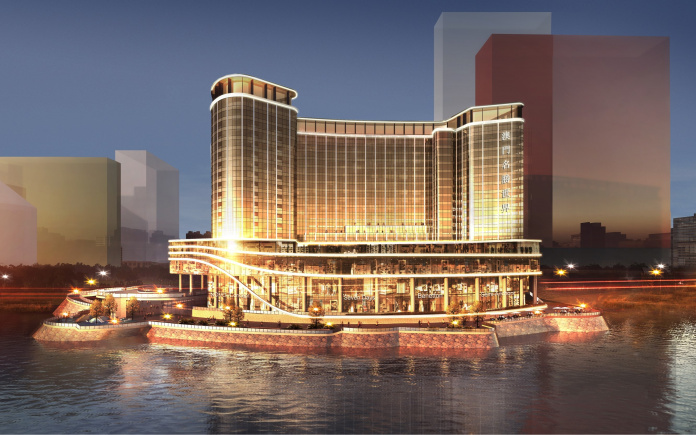 Forward Fashion (International) Holdings is seeking to take retail to the next level in Macau, with plans to introduce new concepts that will appeal both to the changing visitor profile and the domestic market.
The company announced recently that it's collaborating with the upcoming Treasure Island Hotel, which was originally a Genting Hong Kong project, on a new luxury shopping and entertainment center.
The resort, which will not include a casino, will cover a total area of 8,100 square meters on the Macau peninsula with 600 hotel rooms. It has a five-story shopping mall, outdoor swimming pool and hot spring as well as other amenities.
While gross gambling revenue in Macau has struggled to recover from the pandemic, retail sales have surged, with visitors spending more in the shops than in the casinos. The value of retail sales surged 63.5 percent in 2021, rebounding to just 4.2 percent below their pre-pandemic levels.
The total value was MOP73.96 billion ($9.2 billion), with sales driven by demand for communication equipment, which saw a 128.7 percent gain, closely followed by watches, clocks and jewelry, which gained 126.6 percent.
Forward Fashion is hoping to tap into this trend and add a new twist to the retail market.
"Macau has always been focusing on things related to the casino, but we find that there are some elements that are missing, both for the locals and for the tourists and that's why we're trying to bring new projects," Forward Fashion Executive and Regional Director Cyrus Fong told AGB in an interview.
The company will be bringing in French department store, Galeries Lafayette, burger chain Five Guys, a UFC gym, Under Armour and PopMart, as well as a children's playground. Fong said it will be the first truly integrated shopping mall on the Macau Peninsula.
Fong says the gym market is relatively new in Macau and has been focused on just providing machines. Forward Fashion's UFC Gym will aim to create a lifestyle experience, that will integrate with the local community, offering classes and lectures on health and fitness.
While tourists will always be an important driver of sales in Macau, the lessons of the past few years have illustrated the need for diversification and a strong base in the local market.
"Nowadays, when we develop a business, we need to look at the balance. We're not just looking at tourists, but we are developing business for locals too and I think this is very important going forward," Fong said.
Much of the large-scale luxury retail in Macau is focused in Cotai's integrated resorts and prior to the pandemic, the bulk of international tourism traffic had also gravitated towards the strip and proximity to the newer casinos.
However, the type of visitor coming to Macau has changed and that may favor Treasure Island, which is located on the Peninsula, close to Nam Van Lake and the city's historic center.
"When we look at tourists coming to Macau, they're not just coming for gaming anymore. They want to enjoy the city and experience more," Fong said. "When you look at casinos and entertainment, on Cotai there's much more, but when it comes to heritage there's much more on the Macau Peninsula."
Macau industry experts have been noting for some time that the visitor profile to Macau is changing, which has often created a disconnect between the levels of visitation and gross gambling revenue.
"There is a changing demographic amongst the Mainland Chinese visitor," gaming consultant Ben Lee, managing partner of iGamiX Management & Consulting told AGB last year. "They are younger and there are more females."
"About 30 to 40 percent of them are young women and they do not gamble," he said.
Analysts are still unsure as to what is driving this trend, with some argument that it could be due to the heaving discounting and promotions currently being offered by the Macau Government Tourism Office in Mainland China.
Retailers polled recently by the government said they expected to see a decline in 1Q22 sales as the Covid outbreaks across Mainland China crimp visitation.
However, Fong is confident that once those are under control, Macau's retail sales will continue to be a bright spot, especially in the short term when outbound visitation from China remains limited to the Special Administrative Region.
Forward Fashion isn't new to the Macau market. It already has 53 stores mostly in Cotai's integrated resorts. It operates a mixed retail model, between franchises, joint ventures with the brands, and its own brands, such as UM.IXOX.
Last year, the Hong Kong-listed company generated revenue of HK$585.8 million from Macau, up 53 percent from the year before. Macau become the group's largest market in revenue terms, even with fewer than half of the 145 stores it has on Mainland China.
Fong said the integrated resorts had been supportive of their retail clients in the early days of the pandemic, providing relief to tenants. That continued to a lesser extent in 2021.
Rent concessions granted by Sands China in 2021 for example, amounted to US$41 million, compared to US$215 million in 2020.
"That's a great support for the retailer because not all of the retailers are strong enough to stay until the Covid crisis is over," he said. "We have the foundation here and we've been well-established here, so we can keep going and take some opportunity to expand further following the policy and the strategy of the Macau government."