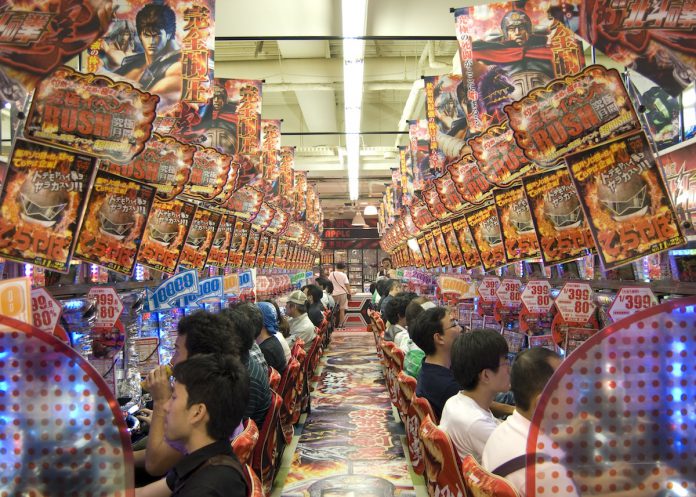 Oftentimes what periods of great crisis do is less to create entirely new trends, but rather to accelerate history, to speed along existing trends much faster than the leisurely evolution that might otherwise have occurred.
We've previously noted that the shift away from brick-and-mortar facilities and toward digital online gaming is one of the trends now being accelerated by the global Covid-19 crisis, but it would seem that the decline of Japan's venerable pachinko industry may be another.
There can be no doubt that pachinko has been in steady decline for the past 25 years. Today there are in the neighborhood of 9,000 pachinko parlors across the nation. At the 1995 peak, it was more than double that number.
Each year brings a new toll to this highly fragmented industry, as revenues steadily decline and more firms go belly up. Smaller outlets are often just a step or two ahead of bankruptcy.
This was an industry that is almost uniquely badly positioned to weather the Covid-19 state of emergency, and in almost every possible way.
First is that financial issue. There are so many small pachinko firms that were on the edge of bankruptcy to start with, and it won't take too many days or weeks of business suspension to push them over the precipice.
There is no reasonable argument to be made that pachinko is a vital service that must be maintained during the state of emergency, nor is pachinko's financial plight likely to invite much sympathy from policymakers as they decide which businesses are most deserving of public funds to see their way through the crisis.
But it goes beyond that. Pachinko parlors are nearly the textbook example of Covid-19 cluster creators. They pack a lot of people side-by-side in what are often poorly ventilated rooms. Multiple people touch the same machines and rub their eyes within the smoky haze. And, indeed, smokers themselves are, according to some research, far more likely to become seriously ill should they actually contract the coronavirus.
Perhaps in part due to their economic desperation, some pachinko parlors have also done much to antagonize public opinion, and dispel any lingering sympathies from government officials.
While some major chains were quick to suspend operations and to take a socially responsible approach, others have defied official calls to close. Some have been seen to host long lines of customers who are not engaging in social distancing. Local residents have routinely called their city halls to complain.
Prefectural governors and even Economic Revitalization Minister Yasutoshi Nishimura himself—the top national official in charge of implementing the state of emergency—have singled out the pachinko industry as the top non-cooperator with coronavirus countermeasures. It's a public relations nightmare for the pachinko industry as a whole.
No one knows, of course, how long and deep the Covid-19 pandemic will be, and most other industries, including restaurants and nightlife establishments, are also taking a major hit.
But when the crisis settles, people will still need to eat outside of their homes sometimes or go out on the town. The full recovery of the already fading pachinko industry is much less of a certainty. Covid-19 is likely to put a lot of pachinko firms out of business for good, and a sizable chunk of the existing parlors may simply disappear in the coming weeks and months.
This, of course, will have an indirect effect on Japan's potential IR industry as well. Companies with one foot in each camp, like Universal Entertainment and Sega Sammy Holdings, partially tied to the pachinko and pachislot machine production business, may see their own sales figures decline well ahead of their previous projections, affecting their IR development strategies.
The full impact remains to be seen, but even now it is a solid bet that Covid-19 is pushing the acceleration pedal to the floor on the brick-and-mortar pachinko industry's long one-way journey to oblivion. (AGB Nippon)