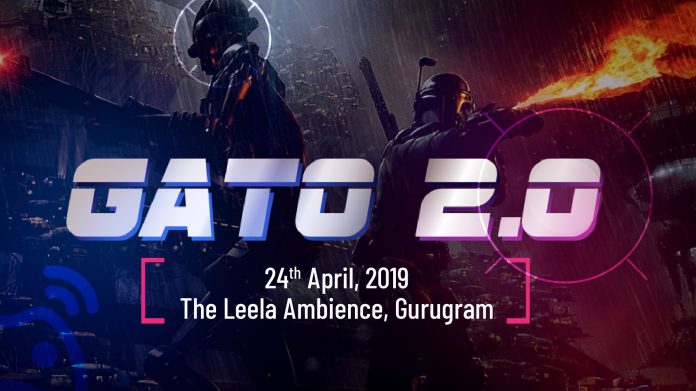 India gaming experts are expecting the gaming industry to become a billion dollar market in India by 2020, with the number of mobile users is expected to reach 700 million by the time.
So said Mr.Digbijoy Shukla Head- Startup, Ecosystem, AISPL, in his inaugural address at the 2nd edition of GATO 2.0 organized by Internet and Mobile Association of India [IAMAI].
The daylong conference had discussions around the various facets of digital gaming in India. Industry experts brainstormed on the potential of various online games and will chart a roadmap for its future growth. The conference also hosted special workshops for developers by AISPL (Amazon Internet Services Private Limited) and Amazon Alexa.
With one successful edition where the gamut of gaming fraternity came along, networked, shared & learned, having passed by, this year's conference was bigger & better.
This year the conference also included GATO Awards for the first time to recognize and promote the efforts of the talented Indian developers. The Awards includes categories like Best Gaming App, Best Live Game, Best Fantasy Game App, Best use of AR/VR in a game; Best Card Game on App, awards will also be given to the Emerging Indian Gaming Company, Best Affiliate Partner for gaming and Best Mobile Ad Network for Gaming.
Mr.Haja Sheriff, Lead, Business Development, Alexa Skills delivered a keynote address at the conference and shared that " India is the development hub globally" and also highlighted that 80,000+ Alexa skills growing every day.
Addressing the panel of gaming skill India Mr.Abhishek Shah, CEO, Conversion X highlighted that hundreds and thousands of jobs will be created by eSports in India.
Addressing the panel on design in gaming and need and importance of gaming Mr. Mohit Agarwal, Founder, Adda 52 said "Game as a medium definitely provides new and powerful affordances, but it is the design within the medium to control those affordances that will establish the effectiveness of a gaming platform. If we want to enhance the appeal of our games, it is essential to recognize what makes an experience entertaining, and how such an experience can be shaped which is only possible by developing an effective game design. In this age of digital transformation and with the rapid growth of the online gaming industry it is essential that the online gaming companies must focus on developing a strong online gaming interface for its users and design is an integral part of this process."