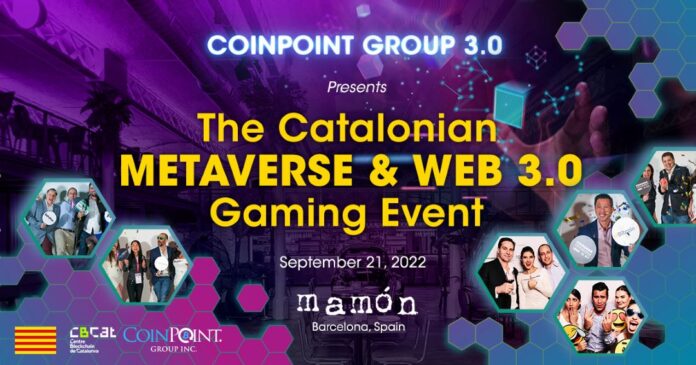 CoinPoint will be hosting an exclusive invitation-based event on September 21, 2022, alongside SBC Barcelona, with the goal of connecting local as well as global businesses and act as their gateway into Web 3.0 and the Metaverse.
The event will be a celebration of education and knowledge sharing of the next-generation blockchain technologies bringing together the industry's leading experts as well as business entrepreneurs and investors. It will be an event you don't want to miss.
Co-Founder Oron Barber commented: "Following the success of our previous events and the increasing demand, we decided to hold the upcoming event in Barcelona and focus on Web 3.0 and Metaverse Gaming, which are the natural evolution of Blockchain technology. Therefore, this will be a very exclusive event, bigger and better than ever and full of surprises following the same path as CoinPoint's past events."
CoinPoint's goal is to bring together business owners and blockchain enthusiasts while educating them on the latest trends in Web 3.0 and guiding them through the metaverse. Blockchain can make transacting and interacting easier, faster, and safer. NFTs have evolved and are now much more than just images while offering an added value to their rightful owners.
CoinPoint wants to provide guests with everything they need to adapt their businesses to the coming times.
The invite-only mixer will be 12 min walk from Fira de Barcelona, SBC Barcelona venue. Guests will get the opportunity to network with other owners of Catalonian businesses, Investors and representatives of family offices, Gaming executives, VC from games markets, developers and business owners.
CoinPoint held its first event in 2018, in London, UK, in collaboration with bitcoin .com. Guests were prompted to download the bitcoin .com app before the party. Attendees were rewarded 5GBP worth of Bitcoin Cash with which they got unlimited drinks at the event as well as other perks. The highlight of this evening was a surprise appearance by World Snooker Champion Ronnie O'Sullivan, who gave away a signed cue to one lucky guest.
In 2019, CoinPoint's second event focused on Bitcoin Cash, utility, and potential. C-Level gaming industry attendees gathered to learn new ways to integrate blockchain technology into their businesses.
In 2020, CoinPoint partnered with BitcoinSV and presented iGaming DLTs designed for convenience, and business managers and financiers were ecstatic to learn more.
In 2022 CoinPoint will raise the bar and guests will be able to learn more about the newest developments, mingle, drink & eat and have fun.
For more details, visit coinpoint.net/barcelona2022.