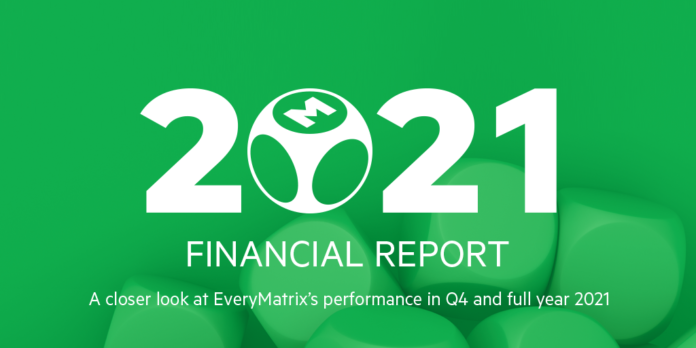 EveryMatrix said its gross profit rose 26 percent in 4Q21 as past investments in development have begun to pay off.
The company reported gross profit, which it terms as gross revenue, less direct costs, of EUR13.9 million in the quarter. EBITDA rose 23 percent to EUR4.4 million. For the full year, EBITDA surged 65 percent to EUR19.7 million.
"I am delighted to report excellent results for the fourth quarter and 2021 as a whole in terms of strong gross profit and EBITDA growth, onboarding of new clients, and deals signed," CEO Ebbe Groes said. "We delivered this result despite the regulatory changes in Germany which have impacted the Casino segment significantly. This achievement proves the positive effect of the bold leap EveryMatrix took when investing heavily in product and technology. It has given us a strong, diverse and competitive product offering and the ability to attract new clients."
The company said it is continuing to expand in the U.S. market and in 4Q21 it made license applications in West Virginia and Michigan, with more in the pipeline in the U.S. and also Canada.
Several new distribution and partner agreements were also signed, including a games contract with Golden Nugget Online Gaming.
EveryMatrix's footprint with tier 1 operators is expanding at a good pace and in Q4 agreements were signed with four new clients, all of them in markets outside Europe: the U.S., Latin America, and Africa, leading to a total of eight new tier 1 operators in 2021.
Eight turnkey projects with new client brands were launched in the quarter. This adds up to 19 turnkey launches for the full year, including launches with brands in the regulated markets in Denmark, Cyprus, Greece, Malta, Romania, Mexico and Africa.
"The number of active leads, client launches, and new product launches makes me confident about our prospects and further demonstrates the momentum with EveryMatrix's innovative product offering and highly scalable and modular software platform," Groes said.