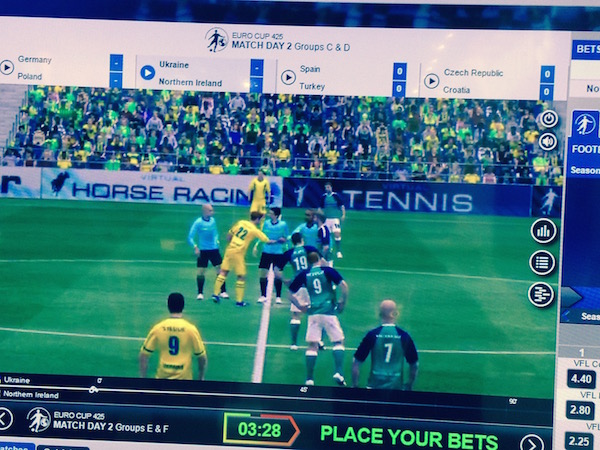 The Covid-19 pandemic has highlighted the need for flexibility and shown the ability of online suppliers to rapidly adapt to new realities, with sportsbooks getting creative in searching out opportunities.  
Almost overnight, wagering options dried up as major events across the globe were cancelled, including Premier League soccer from Europe, Nascar, Formula One and leading tennis and basketball tournaments. This created a void that needed to be quickly filled. 
One obvious vertical was virtual sports. These products were primarily designed to fill the gaps in the sporting calendar when there were no sporting events, but have grown in popularity in recent years due to improvements in animation and computer graphics.
"It will never 100 percent fill the void, but it will certainly help customers retain a large portion of their customer base by offering them an exciting and engaging product," said Pronet Chief Commercial Officer Bobby Longhurst. 
"It comes as no surprise to learn that turnover on virtuals has multiplied 10-fold since major live sporting action was brought to a halt. But even before this downtime, they provided double-digit percentage revenue streams for a large number of operators and are sure to have won over a few more regulars in the last couple of months."
Longhurst said once the crisis is over and teams take to the stadiums again, sports betting will undoubtedly be the main driver of revenue, however, he expects virtuals to be at a higher level than pre-pandemic.  
The U.K.-content supplier and gaming platform upped its offering of a wide range of virtual sports within days of live action coming to a halt, allowing access to quality betting events. 
As well as turning to virtual sports, BetBy CEO Leonid Pertsovskiy said sportsbooks have had to get creative in scouring the globe for potential wagering opportunities. 
"We are seeing lots of different approaches with the absence of live major sporting events," he said. "From placing slightly more niche sports and competitions in the spotlight, such as Belarusian football or South Korean baseball or even darts matches being streamed from living rooms as the appetite for sports remains."
"With the lack of mainstream, popular sporting events, there has been a real growth in the width of betting events, which has led to an exciting time in some spheres."
Longhurst pointed out that many of the virtual and eSports events that have sprung up from the crisis have been broadcast on primetime television, which has provided an extra layer of trust for virtuals, even for the tougher to reach demographics. 
"From a virtual and esports perspective, it has been great to see Premier League footballers go head-to-head for charity, Formula-E stars battle it out on Sky Sports and the virtual Grand National fly the flag live on ITV in front of millions of viewers, raising over £2 million for the NHS in the process too," he said. "It's safe to say that the once-a-year punters are a tough demographic to convince when it comes to virtuals, so even if it helped convince a small percentage of them, it was worth it."
Both suppliers were under no illusions that once live sporting events return, they will still take pride of place within a sportsbook. But they add that a highly flexible and diversified portfolio will help companies to weather a crisis. Covid-19 has been exceptional, but it won't be the last hurdle the industry has to face. 
"Approaching problem periods or times of crisis with an open mind will allow suppliers to stand out from the crowd," said Pertsovskiy at Malta-based BetBy. "We have designed our platform to allow for extreme flexibility and can have new products available with our partners almost immediately, giving our customers the opportunity to adapt their product offering based on what is available with ease."
The pandemic has also perhaps provided a lesson for the future. Although the industry has adapted quickly to reality and has always placed a premium on innovation, it has been shortsighted and needs to look ahead and anticipate potential problems before they occur.
"FOBT (fixed odds betting terminal) limits have completely changed the retail scene and it's not beyond the realms of possibility for stake limits to be introduced online in various markets," Longhurst said. "That would be a hammer blow for a lot of operators and is another example of why contingency plans need to be drawn up by operators."