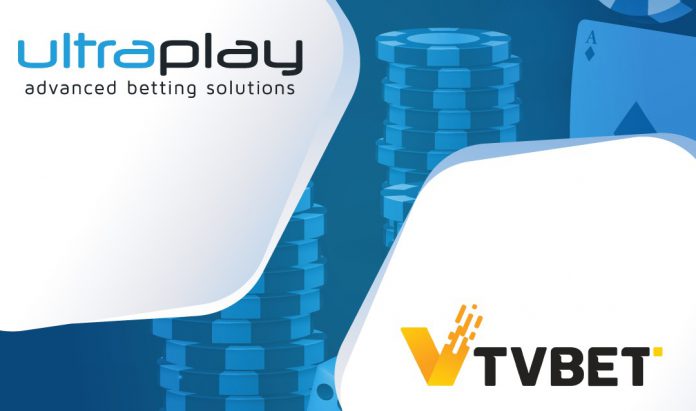 The recent growing popularity of live betting products has helped TVBET draw the attention of UltraPlay, resulting in the two parties entering into a cooperation agreement. 
From now on, the full B2B provider's portfolio will be added to the platform's offering.
The coronavirus pandemic has led to more wagering activity, than ever before. 
As a result, the similar betting mechanics, lotteries, and card games offered by TVBET have become an alternative to sporting events for a great number of people throughout the world. Now, they are gradually becoming loyal fans of games like Poker, Joker, Backgammon, WheelBet, 1Bet, and others.
To strengthen the presence of its products, TVBET has teamed up with UltraPlay. Since the launch in 2010, UltraPlay has become a trusted partner for delivering superior sports software and odds products to its customers. The company's expertise applies to sports and eSports betting, live betting, white-label, online casino, and blockchain technology.
Accordingly, all the existing partners of UltraPlay can now make requests on integrating TV games to their set of products both digital and land-based. TVBET also states that additional promotion and technical support of its 11 live-games to the clients are provided at no cost. Unlike its competitors, the TVBET team offers a full spectrum of supported promo tools, such as multi-level jackpots, bonuses, and cashback.
"We are thrilled to cooperate with such an experienced company as UltraPlay. Through our common efforts, we can definitely strengthen our position in target markets", – said Peter Korpusenko, CEO TVBET. "It is very heartening that our broadcast products become widely beloved throughout the globe, and we must maintain the quality at the highest level".
Mario Ovcharov, CEO of UltraPlay has commented: "We continuously grow our casino product portfolio with thrilling and high-quality games, such as TVBET's offering. Their constant innovation and top-shelf content created a tremendous demand in the industry. With adding TVBET to our turn-key platform, we go beyond expectations from the company's online betting partners."