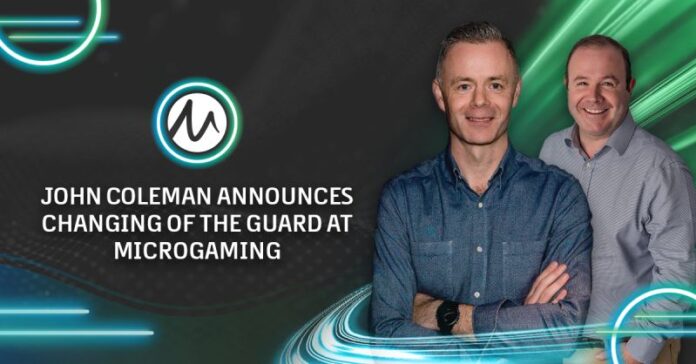 Microgaming has announced a change in leadership and the sale of its Quickfire distribution business to Games Global.
The company said John Coleman is stepping down as CEO as of end-December and will be replaced by chief operating officer, Andrew Clucas.
Coleman was appointed CEO of Microgaming in June 2018, having served as CFO for nearly 14 years. As CEO, John has driven Microgaming's strategy and vision, diversified its product offering, and elevated its position in the global gaming market. An open and empathic leader, John has placed employee wellbeing, safer gambling and corporate social responsibility at the forefront of his decision-making. 
Andrew joined Microgaming in 2009 following a successful career in the Royal Air Force. Rising quickly through the ranks at Microgaming, he headed up various operational areas of the business, including business development and sales, before being appointed chief operating officer in January 2018.
 "I am honoured to have led Microgaming as CEO – such an incredible business and people. After 17 years at the company, this is a natural time for me personally to embark on the next adventure," he said, without giving further details. "Microgaming has a strong leadership structure in place and an exciting future ahead, and I am delighted to announce Andrew Clucas as my successor. Andy is a brilliant colleague, friend and leader, and I have every confidence that he will steer Microgaming to new success."
Andrew Clucas said: "John has been an outstanding leader and ambassador of the business for almost two decades, and I cannot praise him highly enough for his many achievements and contributions. I am delighted to be picking up the mantle from him – being appointed CEO of Microgaming is an incredible honour, and I intend to lead the business with the very same passion and commitment."
The sale of the Quickfire distribution business and portfolio of online games is expected to be completed in 2Q22. The newly established Games Global will acquire the international distribution rights to Microgaming's exclusive gaming content, and also inherit its extensive customer base of more than 900 global gaming brands.
Games Global is a private capital-backed company led by CEO Walter Bugno, formerly of IGT and Lottomatica, and CFO Tim Mickley, previously of SafeCharge and Playtech.
No details were given on price.