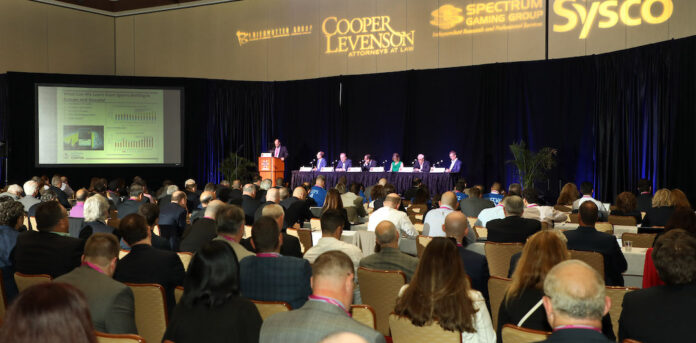 The 25th annual East Coast Gaming Congress will feature more than 50 speakers, including top CEOs, the Governor of New Jersey, and scores of industry experts, as it convenes September 21-23 at Hard Rock Hotel & Casino Atlantic City.
Several hundred gaming industry leaders, legislators, regulators, educators, suppliers, gaming lawyers, media, and other stakeholders will attend the conference's Silver Jubilee to learn more about the trends, challenges, and critical issues facing all segments of the gaming industry.
The luncheon will feature a keynote address from Hon. Phil Murphy, Governor of New Jersey, and will also include the presentation of a Lifetime Achievement Award to industry veteran Virginia McDowell.
Bill Miller, President and CEO, American Gaming Association, will provide an update and analysis on national issues.
The full conference schedule and registration is at www.ecgc.us. ECGC is organized and produced by Cooper Levenson, Attorneys at Law; Spectrum Gaming Group; Esports Entertainment Group; and Sports Illustrated Sportsbook.
Gaming and iGaming Law practice group of Cooper Levenson deals with virtually every level and variety of multi-jurisdiction casino law: iGaming law, sports wagering, licensure, compliance issues, equipment approval and administrative proceedings are just a few of the types of matters handled for clients around the globe.
Spectrum Gaming Group is an independent research and consulting firm that performs advisory and consulting work for gaming operators, suppliers, investors, regulators, government agencies and legislatures.
Esports Entertainment Group is a full-service esports and online betting company. EEG focuses on three verticals: Games, iGaming, and Technology. EEG Games provides a wide array of services and infrastructure for businesses to engage esports and gaming communities around the world including Esports Gaming League (EGL), which hosts a community of more than 350,000 gamers on its proprietary tournament platform EGL.tv.
SI Sportsbook was formed as part of an exclusive partnership between 888 Holdings, one of the world's leading online betting and gaming companies, and Sports Illustrated, a staple of the US sports landscape with its award-winning journalism, colorful photography, and annual swimsuit issue.