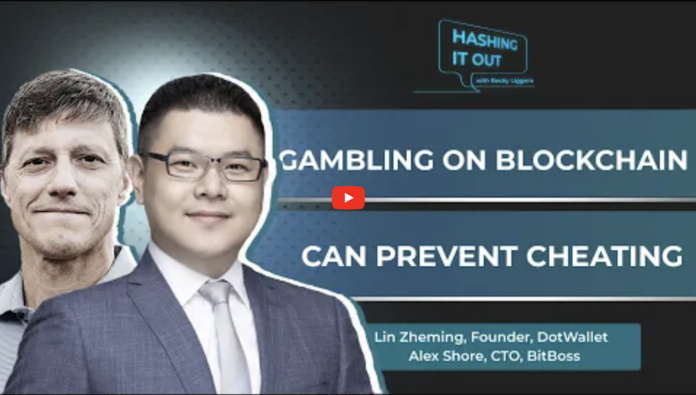 CoinGeek series "Hashing it Out" hosted by Becky Liggero focuses on news and updates on iGaming on blockchain; and during its fifth episode, guests DotWallet Founder Lin Zheming and Colorado-based iGaming technology firm BitBoss CTO Alex Shore discuss how their partnership opens up opportunities in Southeast Asia—a region that western gambling operators find difficult to penetrate.
DotWallet, one of the most popular BSV wallets, has a huge Southeast Asian userbase that is advantageous to BitBoss. On top of this, DotWallet brings with it useful features, such as an app store, a token exchange, an array of lined apps and its recently launched "Badge service" that allows for third-party card tokens to be exchanged between users or used to redeem prizes. The app store in itself is a revolutionary concept when it comes to wallet applications as it is only associated with Google and Apple.
"We use the app ecosystem that can help users to navigate through different applications within the app store in the app so that they can discover what they can do with their digital assets and then they could try something new maybe," Zheming said.
 "They have an app center in DotWallet and you don't need to log into a Google account or be regulated by what Apple deems appropriate, you're not subject to their decision making, essentially. And that's not just for gaming. It's for anything… In the U.S. we're seeing more and more censorship going on with big tech companies, so this concept of app stores and app centers being offered by other providers, such as DotWallet, it's a big idea," Shore added.
BitBoss, on the other hand, is also running the platform for Dragon BSV Casino, a mobile casino application built on the BSV blockchain that is focused on the Southeast Asian market. This BSV-powered mobile casino app offers instant payouts and deposits through the player's wallet. On top of this, because all transactions are immutably and chronologically recorded on the blockchain, it effectively prevents double spending and other forms of cheating. In addition to this, iGaming on blockchain allows for better monitoring of responsible gaming and regulatory compliance.
"BitBoss runs the gaming platform for online casino operators, and Dragon is one of the first operators that has white labeled our platform and that's their focus, that entire [Southeast Asian] region… We are running the platform and we can white label the mobile app that runs it on any smartphone and you can be up and running in a much quicker time than trying to build out your own system for sure," Shore explained.
BitBoss brings with it a blockchain-based gaming platform that can be used by western iGaming operators to launch their own white-label brand, allowing them instant access to the Southeast Asian market. Coupled with DotWallet's large Southeast Asian userbase, gambling operators can now easily penetrate the region without having to worry about issues in branding, player trust and payments.
"Basically, we are leveraging the large userbase that DotWallet has, it's a win-win from the perspective of we can offer DotWallet more content and [Dragon Casino] shows up in their app center for regions that it's allowed… And then for us, we have a whole new channel of users that we can now access. So people see our technology in DotWallet that otherwise wouldn't know about it. They can tap on it. They can link over to our app and do real money gaming immediately and very easily by transferring BSV from their DotWallet wallet to their Dragon wallet," Shore further explained.
"We are very eager to introduce Dragon Casino with other applications so we can work together and create more value, more fun for our user. That will, together, we create a much better place for other application developers to consider," Zheming concluded.