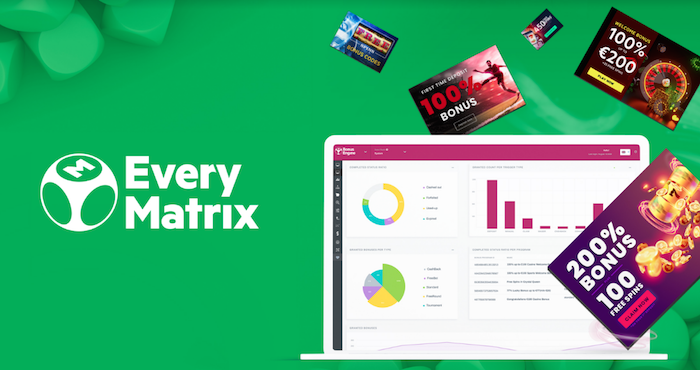 BonusEngine, the newly relaunched casino and sports bonus solution from EveryMatrix, puts forward an intriguing promise: unlimited rewards to boost player acquisition, retention and reactivation while reducing the operational burden and costs for operators.
BonusEngine comes packed with plenty of bonus types and features. Operators can now leverage the full potential of cross-product bonusing and ramp up the game by combining and stacking casino and sports bonuses in different ways, setting dependencies between bonuses to design engaging promotion campaigns. Be it sport, casino or both, players can enjoy unlimited bonuses at the same time, with no game play interruption.
Multi-triggers that allow precise player targeting also come into the spotlight. For instance, a specific trigger or sets of triggers can activate one bonus, just as well as the same trigger can switch on bundled rewards. It follows that all these need detailed reporting for thorough analyses, and BonusEngine manages to tick this requirement as well.
Created to act as a single point for managing player acquisition, retention and engagement across all the brands and verticals of an operator, BonusEngine delivers simplicity of use. From campaign recurrence to cost management, automation is how the bonus system seeks to optimize operational tasks while increasing the profitability.
A full picture of iGaming bonuses is incomplete without addressing the players, and BonusEngine also caters well to this audience. It ramps up the customer experience, by allowing seamless usage of different bonus and real-money wallets, and by amplifying the excitement with many gamification tools such as tournaments, challenges, or mission-based achievements.