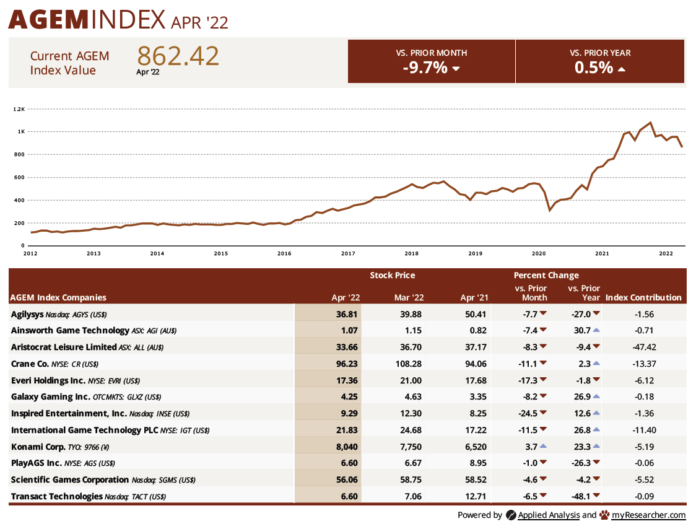 The monthly AGEM Index of global gaming stocks posted a 9.7 percent decrease in April from the prior month, with all 12 index stocks making a negative contribution.
The index, compiled by the Association of Gaming Equipment Manufacturers (AGEM), dropped 92.98 points to 862.42. Eleven of the 12 AGEM Index companies saw a stock-price decline.
The largest negative contribution came from Aristocrat Leisure, which took 47.42 points off the index due to an 8.3 percent decline in its share price. International Game Technology was responsible for an 11.4 point drop due to an 11.6 percent drop in its share price. 
Despite a 3.7 percent increase in stock price over the period for Konami Corp., a weakened exchange rate between the United States dollar and the Japanese yen led to a 5.19-point loss for the index.
Compared to one year ago, the index added 3.99 points for an annual growth rate of 0.5 percent.
All three major U.S. indices declined in April, with the Dow Jones Industrial Average down 4.9 percent and the S&P 500 off by 8.8 percent. The NASDAQ saw a 13.3 percent fall.