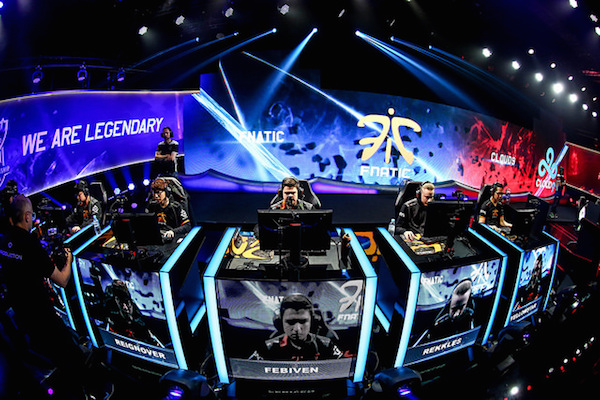 eSports, once the preserve of eager young video gamers, is crossing into the mainstream to become one of the fastest-growing sectors of the online gambling market.
Boutique research house, Eilers Research, recently estimated the size of the global eSports gambling market at more than a quarter of a billion dollars this year. It expects that figure to balloon to more than $23 billion by 2020.
"eSports is an extremely hospitable environment for real-money online wagering. Penetration of eSports betting into the gamer community and general growth of eSports betting has each been dampened to date by structural barriers that are now weakening," California-based Eilers said in a note.
"eSports" is a term describing the competitive playing of online video games. The most popular games played in these contests feature gun battles, monsters, wizards, and warriors. Commonly these contests involve teams consisting of five eSports athletes on each side.
The most popular genre at present is the Multiplayer Online Battle Arena (MOBA), which includes games such as League of Legends, developed by the company Riot Games, and Dota 2 by the Valve Corporation. These are fantasy world games in which teams of gods, monsters, ghosts, and other creatures battle it out until victory or defeat.
The other dominant sector includes First-Person Shooter games. The leading representative at present is Counter-Strike: Global Offensive by the Valve Corporation, which pits teams of terrorists and counter-terrorists against one another in battles with guns and other weapons.
For the players, the stakes are high and Asians regularly feature at the top of the tournament leagues. The Main Event portion of the 2015 International Dota 2 Championships, which kicked off in August, had a record-breaking $18 million prize pool.
NewZoo estimates that the industry itself is growing at about a 40 percent rate year-on-year. By 2020 eSports is expected to become a billion dollar industry even by more conservative projections, and some believe that its rise will be even more dramatic.
South Korea and China—together with the United States—are the leading countries in the field. South Korea in particular has pulled ahead of the pack, based mainly on the wild popularity in that nation of Starcraft and Starcraft II by Blizzard Entertainment, a real-time military strategy game.
South Korea has even had television stations dedicated to broadcasting such matches, and is credited as the first to build stadiums to support eSports tournaments. Its players are so successful that one of the betting options offered by William Hill is on the number of Korean teams to reach the League of Legends tournament final.
Elsewhere in Asia, eSports are also popular, with Taiwan, Malaysia, Singapore and Pakistan all ranking in the top 20 earning countries, according to eSportsearnings.com.
The Philippines is also keen to gain a slice of the eSports gaming pie and local industry heads are working closely with government agencies to bring large video-game firms into the country, Alvin Juban, President of Game Developers Association Of The Philippines recently told eSports Inquirer.
In order to strengthen the foundation of eSports in the country, The Philippine eSports Association (PeSPA) was formed last month to be the official governing body of eSports in the country.
The ability to reach mass audiences is a key reason why the industry is now in a take-off stage. There are already more than 100 million people globally who are believed to be regular viewers of eSports, with about half of them in mainland China, but otherwise broadly distributed in many parts of the world.
A crucial role in this respect has been played by the online streaming service Twitch, now owned by Amazon, which captured the video gaming audience and spread interest in eSports much more widely than had earlier been the case. Felix Ng, advisor at Better eSports, observes, "Twitch is very central in making it popular to watch these games, which eventually turns into gambling on these games as well."
But Twitch is now facing rivals such as YouTube Gaming, a fact which is likely to boost eSports to yet new levels of popularity. In the United States, Turner Broadcasting is even preparing to test eSports in the primetime television market.
Among the pioneers focused on eSports gambling is Rahul Sood, CEO and founder of Unikrn, a Seattle-based company. Sood tells AGB that Unikrn aims to create "a white legal space" for betting on eSports. While regulatory efforts trail the realities of this fast-developing industry, leading to some "shady aspects" in the business, Unikrn wants to assure its own users that its space operates legally and ethically.
Unikrn has already obtained gambling licenses in the United Kingdom, Ireland, Australia, and New Zealand, but it also offers gaming options with virtual currency on a global basis through its website.
Aside from Unikrn—which is steeped in the subculture of eSports—more traditional bookies have also moved into the sector offering bets on the major games such as League of Legends, Dota 2, and Counter-Strike: Global Offensive (CS:GO).
As well as William Hill, Pinnacle Sports, Bet365, eGamingbets, Betway and Bet-at-Home have all begun offering eSports betting options. Most are licensed in either Malta or Costa Rica.
Pinnacle says since 2011, when it began accepting bets on eSports, the volume of trades placed has doubled each year. The company has hired a specialist team of eight e-sports traders responsible for setting lines and wagers.
Betway claimed in August to have become the first major bookmaker to launch a dedicated eSports portal. Since the beginning of the year Betway has tripled its eSports team to accommodate the huge surge in interest from eSports bettors.
"Betting on eSports is huge and will only continue to grow. We've already taken high four figure bets on everything from CS:GO and Dota 2 to League of Legends and FIFA," said Betway marketing director, Anthony Werkman.
Demographically, the eSports industry would be the envy of major casino operators. The viewership is approximately 85 percent male and 15 percent female, with 60 percent of viewers between the ages of 18 and 34.