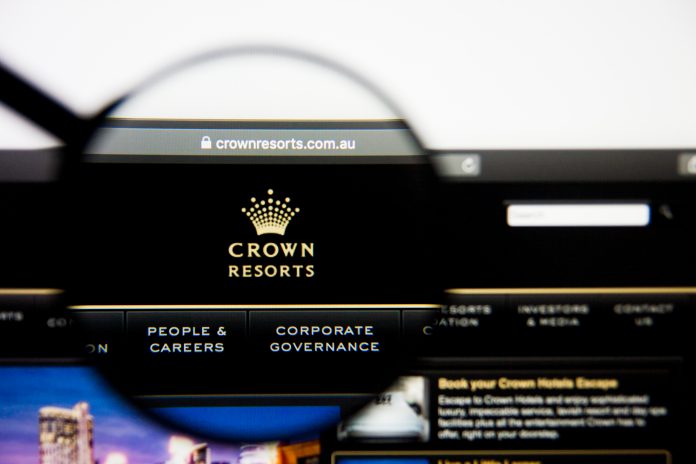 Crown Resorts is expected to keep its coveted Sydney license, but a suitability probe has unveiled a pattern of compliance breaches and lax corporate governance at the Australian operator.
The inquiry, which is being held by New South Wales' Independent Liquor and Gaming Authority, resumed in July after a three-month suspension due to Covid-19.
Senior executives testifying at the trial have shown a "troubling" lack of awareness of common operational practices within the company, with presiding judge Patricia Bergin commenting that the situation had reached "debacle" levels after testimony from CEO Ken Barton.
Barton had said he was unaware of cash deposits being made in a Crown Melbourne VIP room run by Suncity Group until they were shown on a television report. 
While Crown's general counsel and company secretary Mary Manos revealed she did not look into the bank accounts of two Crown investment companies – Southbank Investments and Riverbank Investments – which had been accused of laundering cash from drug traffickers.
The inquiry is looking into whether Crown is still suitable to hold a license for its new $2.2 billion ($1.56 billion) VIP-focused property in Barangaroo and whether it breached the terms of the license by selling an almost 20 percent stake to Melco Resorts & Entertainment. 
The probe follows an investigative report in Australian media that alleged money laundering, links to organized crime and immigration offenses. 
The stake sale to Melco has since fallen through, but raised red flags for regulators as one of the conditions of the original license was that Crown had no dealings with any companies linked to former Macau king of gambling, Stanley Ho. 
New South Wales authorities allege Ho, who died in May, had links to organized crime.
Melco is run by Ho's son Lawrence, but Great Respect, a company representing family interests, including Stanley, holds a 26.5 percent stake in the Macau operator.
Crown Non-Executive Director Michael Johnston, who was involved in negotiating the sale on behalf of shareholder James Packer, told the inquiry that little thought had been given to the potential impact on the license. 
The sale, agreed in May last year, was to have taken place in two tranches, though the second part was abandoned and Melco sold its 9.9 percent stake to The Blackstone Group in April this year.
Johnston said he had tried to interest Packer into considering other buyers, but was overruled.
Despite the troubling governance revelations in the trial, J.P. Morgan said it believed Crown would manage to hold onto the license, although it may be subject to a short suspension.
The main reason is the actions the company has announced to overhaul its compliance measures.
Crown has said that it has stopped all operations with junket operators until the end of June next year while it reviews procedures. It has also appointed Australian Criminal Intelligence Commission's Melbourne operations manager, John Yates, to head up its anti-money laundering and compliance efforts. 
However, J.P. Morgan does point out that the inquiry may attach more strings to the license, which could have significant ramifications.
"CWN is entitled to claim compensation worth 10.5x the estimated negative financial impact from almost "any action" the NSW government takes which changes, or has the effect of changing, its license," it said.
The minimum compensation due is $200 million, unless Crown is found to be in breach of its license conditions. 
According to local news reports, taxpayers in New South Wales will be liable to foot the bill for any compensation payments. Critics of the 2014 license deal made with Crown argue that the terms of the license undermined the local government's ability to act in the public interest.
Crown Sydney is scheduled to begin opening from December. It will be the country's first six-star resort and will have about 349 rooms and 14 restaurants. No slot machines will be allowed and the property had been expected to focus on Asian VIPs.
However, Australia is not expected to open its borders to international tourists for the foreseeable future.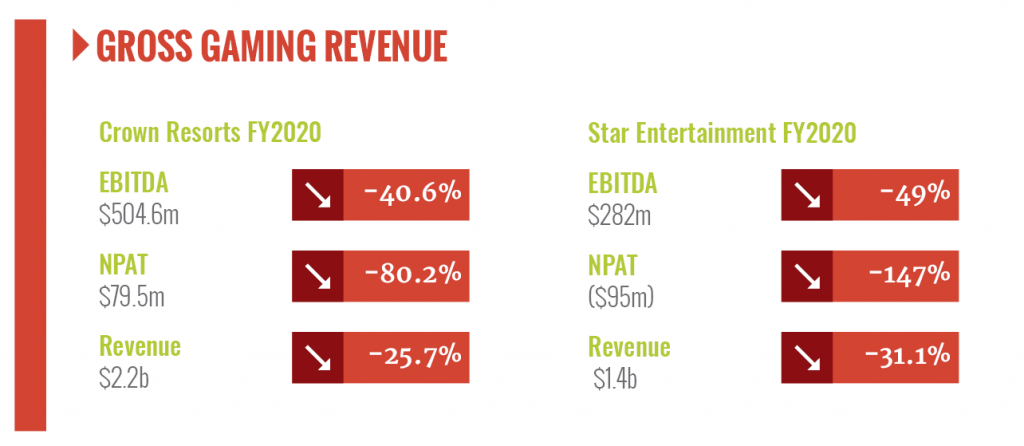 Ainsworth focuses on R&D/content
---
Ainsworth Game Technology says it will prudently invest in research and development to position itself for a long-term post-pandemic recovery.
The Australian supplier posted a statutory net loss after tax of A$43.3 million for the fiscal year ending June 30th, compared with a profit of $10.9 million the year before. Revenue dropped 36 percent to $149.4 million for the full year. In the pandemic-affected second half, revenue was down 63 percent.
Research and development spending increased by 2 percent to $41.2 million.
"We continue to progress our development plans with a more targeted and innovative approach to ensure an improvement in overall game performance is achieved," CEO Lawrence Levy said on a conference call. "This is expected to ensure a greater market share within all global markets where we operate."
Online revenue increased by 10 percent. Ainsworth said it has expanded partnerships with social game providers and launched a U.S.-based remote gaming server. These initiatives are expected "to provide complementary revenue gains within online social and real money gaming segments in future periods," it said. 
HatchAsia signs Silver Heritage takeover deed
---

HatchAsia has signed and executed a Deed of Company Arrangement to take control of A
ustralia-listed Silver Heritage Group.
HatchAsia is paying A$530,000 in cash and 3 percent of the issued shares. Following the transaction it will own 92 percent of the struggling operator. The takeover needs shareholder approval. 
Silver Heritage announced in May that it was going into voluntary liquidation after the Covid-19 crisis forced the closure of its Tiger Palace property in Nepal and exacerbated a liquidity crisis. It also said its main lender OCP has said it was unwilling to extend any further financial support.
HatchAsia is involved in projects ranging from strategic consulting, software development, land-based deployment and back office processing.