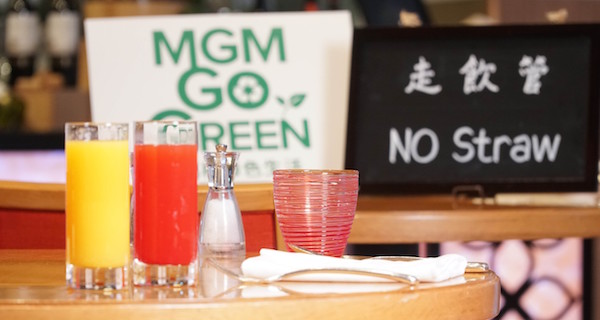 As concern mounts about the global environment, many of Asia's giant IRs are taking significant steps to minimise their impact, investing heavily in green technologies and other waste control initiatives.
Tourism already creates around 8 percent of global greenhouse gas emissions and the sector is set to grow at an annual rate of 4 percent, according to a paper published in 2018 by scientific journal Nature Climate Change.
Several IRs have now set science-based targets to go carbon neutral and are employing a variety of technologies and strategies to promote environmental sustainability. The IRs' environmental footprint is massive, not only in energy consumed but also in terms of water usage, food consumption and waste.
SkyCity goes carbon neutral
New Zealand's largest leisure group SKYCITY has announced the group's sites in the country will be carbon neutral by the end of this year, with the Adelaide resort in Australia carbon neutral by next year. The group will levy an internal charge of $25 per tonne of carbon, in line with government recommendations, and will form a green carbon offset fund.
In Australia, the Star Entertainment Group is targeting a 30 percent reduction in carbon emission intensity and a 30 percent reduction in potable water consumption by financial year 2023 based on a 2013 baseline year. The group saved over $3.9 million through implementing 43 energy efficiency initiatives, including water cooling replacement technology, over the past five years.
"We have commissioned emissions modelling to identify a net zero carbon pathway, and will continue to investigate best practise options to implement this in the near future," a spokesman told AGB.
In February, the group started phasing out the use of plastic straws across its three resorts and installing still and sparkling water fountains to reduce plastic bottles. In addition, the Star Sydney has recycled over 2.65 million kgs of glass in 9 years as at May 2019 and created 32,690 soaps via Soap Aid. Star has been recognised as Dow Jones Sustainability Index Leader for the Casinos and Gaming Industry in the years 2016, 2017 and 2018.
Melco zero waste by 2030
In Macau, Melco Resorts & Entertainment is committed to being carbon neutral and achieving zero waste at its resorts by 2030.
"To work towards achieving our carbon neutral target by 2030, we will be looking, amongst others, at increasing energy efficiency across our portfolio, onsite renewable sources of energy, building energy efficient properties and other technologies," Chief Sustainability Officer Denise Chen told AGB.
The group is focusing on energy efficiency measures through LED lighting systems, photo-sensors and optimised building management systems. Between 2016 and 2018, Melco reduced energy consumption at its resorts, excluding City of Dreams, which expanded with the addition of Morpheus, by an average of 10 percent.
Melco is also switching to renewable energy. It installed Macau's largest solar photovoltaic panels system at City of Dreams and Studio City with the capacity to generate nearly 7.7 million kWh of energy per year.
"The switch to switch to LED lighting at COD Manila alone has resulted in savings of 28,000 kWh per month," Chen added. In 2018, the group sourced 100 percent of its electricity from renewables via the purchase of Energy Attribute Certificates, helping to reduce the absolute emissions by 95 percent since 2016. The group also launched 20 zero-emission electric buses in 2018 and plans to expand the use of electric vehicles across the properties and power them with renewable energy.
In terms of waste reduction, the group is the first IR to become a signatory to The New Plastics Economy Global Commitment, led by the Ellen MacArthur Foundation in collaboration with UN Environment, which seeks to use 100 percent reusable, recyclable, or compostable plastic packaging by 2025. By the end of 2019, Melco plans to remove 100 percent of single-use plastic bottles at all employee areas and is targeting the guest areas by the end of 2020.
"We are looking to develop a roadmap by the end of 2023 to increase the amount of recycled content across our existing plastic packaging. I think this is one area where technology is improving all the time and we hope it will move fast enough to allow us to achieve that," Chen said. "Going forward will be looking to adopt globally recognised sustainable building certifications for our new properties." Melco is also implementing sustainable sourcing for cotton, seafood and cleaning products.
Sands China sets emission targets
Macau gaming operator Sands China operates an ECO360 global sustainability strategy under parent Las Vegas Sands using emissions reduction targets approved by the Science Based Target Initiative, which is backed by the UN, the WWF and the World Resources Institute. These science-based targets are in line with the goals of the Paris Agreement to limit global warming to below 2 percent above pre-industrial levels. Las Vegas Sands used this method to set targets of 49 percent emissions reduction by 2030 on a path to achieve 95 percent reduction by 2050. The group achieved a 5.8 percent reduction company-wide as of 2018, including completely offsetting two new resorts: St. Regis and the Parisian.
"Our two newly opened resorts St. Regis (508,000 sq. ft./400 rooms) and the Parisian (3,800,000 sq. ft/2,951 rooms) were offset by 2018 through combined energy efficiency projects carried out in our global portfolio of resorts," a spokeswoman said.
Sands China, saved over 26 million kWh of energy in 2018 through the installation of LEDs and optimisation of the heating and cooling systems. The group plans to install solar panels at Sands Cotai Central to provide hot water. The new development "The Londoner" project at Sands Cotai Central will retrofit several hotel properties and recycle the furniture.
In terms of water conservation, the company has saved over 150 million gallons of water since 2014, the capacity of 200 Olympic-sized swimming pools. In addition, more than 2,300 tons of food waste has been diverted since 2014.
The group also focuses on sustainable sourcing of food and has launched a Green Cuisine campaign across 14 of its signature restaurants to promote environmentally sustainable vegan dishes, including some made with innovative plant-based meat alternatives like Omnipork and Beyond Meat. This year, Sands also banned shark fin from its restaurants.
The group is also seeking energy efficiencies from its ferries, electric buses and carries out many smaller local initiatives such as tree planting, office goods recycling and recycling policies, and investing in other green technology. The Venetian Macao received Macao Green Hotel Platinum Award in 2018 while the Parisian Macao and Four Seasons Hotel Macao received Macao Green Hotel Gold Award in 2018.
Marina Bay Sands hosts green oasis
In Singapore, Marina Bay Sands also operates under the Sands ECO360 policy and has succeeded in reducing its carbon footprint by 32 percent since it opened in 2010. A S$25 million intelligent building management system allows automated controls over lighting, heating, air-conditioning and water supplies for the entire property, which helps the IR save over 46 million kWh of energy a year.
On the roof is the SkyPark, a 12,400 m2 green oasis of more than 700 trees and palms, some over five metres tall, helps to absorb and reduce heat entering the building, reducing the workload of chillers. There are other 'green roofs' throughout the development.
To further improve energy efficiency, Marina Bay Sands installed a 145 kWp solar power system atop the SkyPark that is designed to power all lighting in the SkyPark and will enable the IR to reduce carbon emissions by 70 tonnes every year.
Large-scale art installations across the property also play a role in sustainability with Rain Oculus recycling rain water while Wind Arbor features a stainless steel net, comprising 260,000 aluminium metal flappers, which acts as a shield from the sunlight, preventing the building's temperature from rising too rapidly.
In 2017, the IR partnered with the WWF to transform its supply chain initiating a programme to support four aquaculture farms in Malaysia towards sustainable farming. By 2020, Marina Bay Sands aims to have 50 percent of all seafood by volume sourced responsibly. The IR is the first facility in SE Asia to obtain the ISO 20121 Sustainable Events Management System certification.
Genting Singapore seeks sustainable sources
Genting Singapore, which operates Resorts World Sentosa, has investigated significantly in a range of sustainable initiatives and is already beating its 2020 energy and water savings targets. By end 2018, the group had achieved cumulative energy savings of 50.7 percent (from baseline year 2013), or 172,000,000 kWh, and cumulative water savings of 30.2 percent (from baseline year 2015), or 850,000 m3.
A building energy management system monitors, records and trends the consumption of electricity, water, gas and chilled water at each key entity within the resort. The chilled water system is one of the largest single users of electricity and water in the resort but is now one of the most efficient district cooling systems in Singapore, the group says.
RWS now has 90 percent LED lighting and has also installed solar photovoltaic panels which generate about 640,000 kWh of renewable energy every year. The solar array built on the roof of the Revenge of the Mummy building in Universal Studios Singapore theme park, covers more than 4,500 m2. New waste management initiatives also contributed to a more than 20 percent reduction in waste production and an increase in the use of recycled materials.
In 2018 from the previous year, there was a 105 percent increase in recycled waste, a 5 percent overall decrease in waste produced and 8 percent decrease in waste sent for incineration. Of the waste produced this year, 13 percent was recycled. In 2018, the group launched a campaign to cut more than 3 million plastic straws (approx. 1.2 tonnes) annually. This year, RWS also received the Singapore Packaging Agreement (SPA) Award 2018 for efforts in reducing packaging waste.
In terms of food sourcing, RWS converted its top 30 most consumed food items to sustainable sources. RWS also introduces educational programmes and mangrove and reef clean-ups.
MGM Cotai gets three-star award
MGM China, part of MGM Resorts International, follows best practice frameworks across its IRs with MGM MACAU receiving the ISO 50001 Energy Management System certification in 2016. In 2018, the group opened MGM COTAI, which was awarded the Three Star certification under the China Green Building Design Label, the first mega-size complex in Macau to receive this.
The green building program included: high-tech energy efficient air-conditioning, 100 percent LED lighting, low-flow water fixtures and fittings, use of recyclable and local construction materials, and systems for advanced indoor air quality. MGM CO|TAI also received the "Continuous Energy Saving Award" from Companhia de Electricidade de Macau as part of CEM's annual energy saving contest.
MGM China has reduced its total energy consumption by 30 percent, against a 2008 baseline. Significant savings have been realised from heat pump installation, chiller plant optimisation, air handling units optimisation and on-going LED lamp replacement. Since 2012, MGM China has reduced its total water consumption by 19 percent through the use of low-flow fixtures and fittings in bathrooms and kitchens, recycling water condensate from air-handling units for toilet flushing, adjustment of flush flow rates and water-saving guidelines for high-water consuming departments.
Since baseline year 2012, the group has reduced waste sent to incinerators by 15 percent. The group recycles plastic, paper, cardboard, waste oil soap, metals, glass and IT equipment. In 2018, the group eliminated single-use plastics in all of its restaurants and replaced them with environmentally-friendly alternatives. The move should save 4.5 million pieces of single-use plastic per year from being disposed of into the environment.
All guest limousines and leased shuttle buses are Euro IV and V compliant, meaning lower levels of pollution. In 2018, the group purchased 6 zero-emission electric buses to pick up and drop off guests. MGM spends over MOP71 million annually procuring products that are environmentally friendly.
Japan in sights
Fredric Gushin, managing director of independent Spectrum Gaming Group adds: "Each new major project represents a step forward in terms of sustainability particularly with technology improving all the time. In Japan, the three IR licenses in Osaka, Nagasaki and Wakayama will require investments of $5 to up to$12 billion each but the projects will only be opening in 2025 at the earliest. The new projects will look to the future and reflect the latest technologies, with earthquake controls, new eco systems, all with sustainability in mind. It is almost demanded in these times that these projects be built on an eco friendly basis."