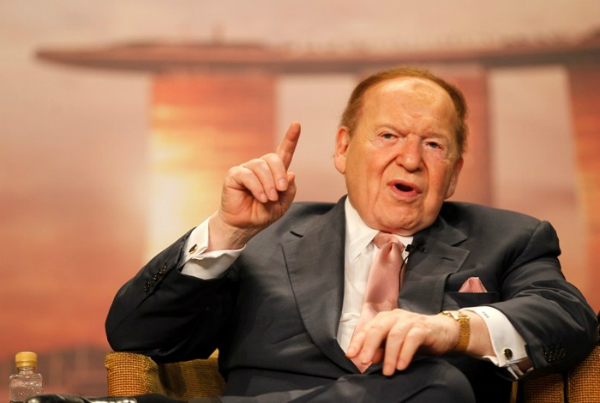 Las Vegas Sands Chairman and Chief Executive Officer Sheldon Adelson chose his words carefully back in May when he announced that his firm, considered by many observers to be the frontrunner among major IR operators, had pulled out of the Japan race. But in an earnings conference call held last week, he let it rip.
In May, Adelson couched his oblique criticisms in talk about his "fondness for the Japanese culture and admiration for the country's strength as a tourism destination." When discussing the reason why his company was giving up on a prize that it had eagerly sought for many years, he only stated that "the framework around the development of an IR has made our goals there unreachable," letting outside observers and analysts fill in the blanks.
Last week, however, Adelson was far more candid about his thought process: "The regulations that were promulgated by the Japanese government that went through the Diet were not conducive to attracting the kind of investment that it requires. The cost of construction and the cost of land in Japan is very high. And it didn't justify—like in another jurisdiction. If it were down to US$3 billion, US$4 billion… well… I'm not sure that it would have made much of a difference because some of the rules they're talking about—withholding income tax from foreign winners."
He grew more specific: "So a player comes in from another country. He wins. The government wants the operator to withhold the taxes to pay the Japanese government. That will never attract one foreigner. And the taxes were 30 percent gaming taxes, 30 percent income taxes, and there was no assurance that they won't raise the taxes from there. So there were just too many negative regulations that we couldn't live with."
President and Chief Operating Officer Robert Goldstein took the same line in the conference call: "No one wanted to be in Japan more than Sheldon and the team here. We were very bullish on Japan. We spent a lot of time and money, and we were very hopeful. But the environment there just wasn't suitable to make an investment that this company demands in terms of returns. We couldn't make it work. We sure tried. We spent endless time and endless dollars pursuing Japan. We wish we could have stayed. We wish the construct was more welcoming to the investor, but it wasn't. And I feel comfortable that we made the right choice."
These comments should come as flashing red lights to the Shinzo Abe government and those who have been designing the nation's regulatory framework. However, it is difficult to escape the notion that the Japanese decision-makers have little or no knowledge of what Sheldon Adelson and Robert Goldstein are saying about Japan, in spite of the fact that these are the titans of the global gaming industry whose ten billion dollar investments they had aimed to attract.
In too many of these AGB Nippon analyses in recent months, we keep coming back to these same themes again and again, which is that the Abe government is failing to demonstrate leadership on IR policy, and that the system it is creating seems best calculated to ensure the political and economic failure of the entire IR initiative in the country.
We were forced to repeat ourselves in this way because this is a matter forming the very foundation of Japan's incipient casino and IR industry. If the political and regulatory foundation is weak and full of holes, then anything that is built on top of it—no matter how clever, shiny, and vibrant—is almost certain to collapse in the course of time.
Adelson did make one other significant comment: "If they change [the negative regulations], our mind is open to go back."
No one doubts that Japan possesses the fundamentals for creating one of the great IR markets in the world, perhaps second only to Macau. This is why so many of the operators other than Las Vegas Sands are still holding on, hoping that somehow the Japanese government will still find a way to muddle through the obstacles and to create a viable regulatory system that isn't too punishing to their interests.
But that bountiful road is not the highway that Japan is traveling at the current time. (AGB Nippon)