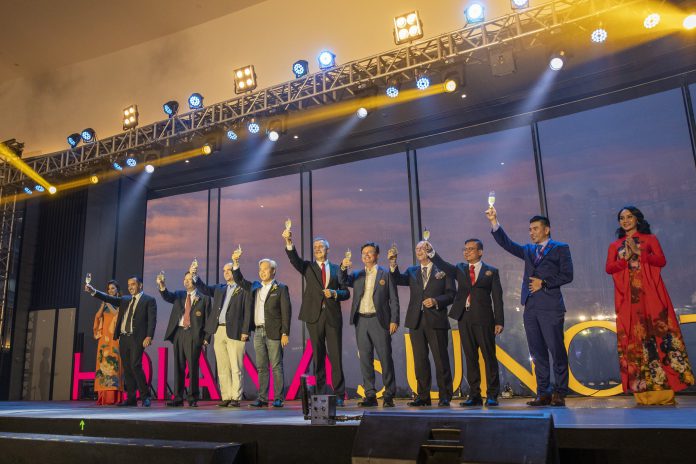 SunCity Group Holdings and its investment partners held a preview opening of Hoiana on Sunday, with a "simple yet solemn" ceremony. 
Hosted by Hoiana chairman Mr. Don Lam and chief executive officer Steve Wolstenholme, the opening included traditional ceremonies such as "Lion Eye Dotting" and "Choi Qing".
On display included Hoiana's gaming facilities, Hoiana Shores Golf Club, and the Hoiana Hotel & Suites managed by Rosewood Hotel Group.
The resort also boasts its proximity to over 3 kilometers of coastline, in which it intends to build its Beach Club. More F&B and retail brands are set to come ahead of its grand opening. 
SunCity said it has been working hard to develop a range of services and entertainment for the VIP market, including VIP services, entertainment, global tourism, food and beverage, luxury fashion. Through Suncity Group Holdings Limited, Suncity has also been actively expanding its global hotel and integrated resort management businesses as its core development.
Last year, the company became the single largest shareholder of Summit Ascent Holdings Limited, operator of Tigre de Cristal in Vladivostok, Russia. It has also acquired the majority stake of Suntrust Home Developers Inc. (PSE: SUN) in the Philippines, entering the Filipino market by developing Westside City Project in Entertainment City in Manila, the Philippines. 
The project will have a gross floor area of over 180,000 square meters and is expected to be in operations in Q4 2022.
Mr. Alvin Chau, Chief Executive Officer and Director of Suncity Group said, "The metamorphosis of Suncity never stops. I am delighted to see that our projects in Vietnam, Russia, the Philippines, etc. continue to grow as they all undergo a transformation. My dear friends and guests, please come to experience Hoiana yourself during the Grand Opening in 2021."