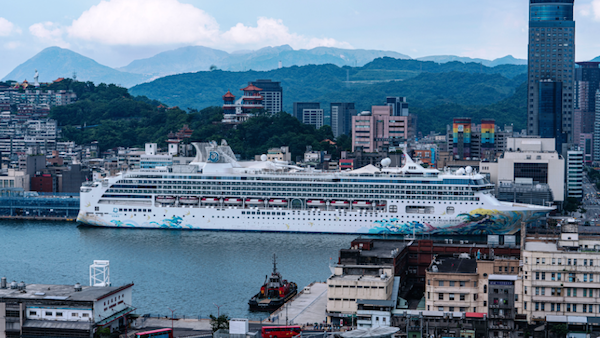 Genting Hong Kong's Explorer Dream resumed operations over the weekend in Taiwan, though due to strict Covid-19 restrictions the casino will not be opened.
The ship set sail from Keelung port on Sunday with 900 passengers and will travel between Taiwan's outlying islands, Reuters reports.
The ship is carrying just a third of its maximum passenger limit, and is equipped with 22 COVID-19 wards to isolate passengers if any fall ill.
The 500-strong crew underwent a 21-day health screening before coming on board. All front-line service staff are required to wear masks and gloves. Buffet service has been dropped, the onboard casino and spa are shut, and dining tables are set apart and divided by screens.
Passengers must keep social distance and have their temperatures checked before coming onboard.
The cruise resumption is part of a government effort to boost a tourism industry badly hit by the pandemic. Taiwan has largely closed its borders since mid-March and advised citizens against overseas travel unless absolutely necessary.
"It is a great honour for Genting Cruise Lines to continue its long and fruitful partnership with Taiwan which began over 20 years ago, as we begin on the road to recovery together due to the COVID-19 pandemic and which will bring hope to the global cruise industry as well," said Mr. Kent Zhu, President of Genting Cruise Lines, the company said in a press statement.
"The restarting of the cruise industry is a remarkable achievement which was made possible by the Taiwan authorities' swift and effective handling of the COVID-19 crisis and their foresight in resuming the tourism industry to benefit all the ports, the economy and the lifestyle of the people of Taiwan," added Mr. Zhu. "Looking forward, we believe the development of cruise bubbles between Taiwan and neighbouring regions that also have their pandemic situation under control, such as the outlying islands of Japan, can further initiate the next phase in the re-establishment of international tourism and spur the economic recovery for a post COVID-19 world."