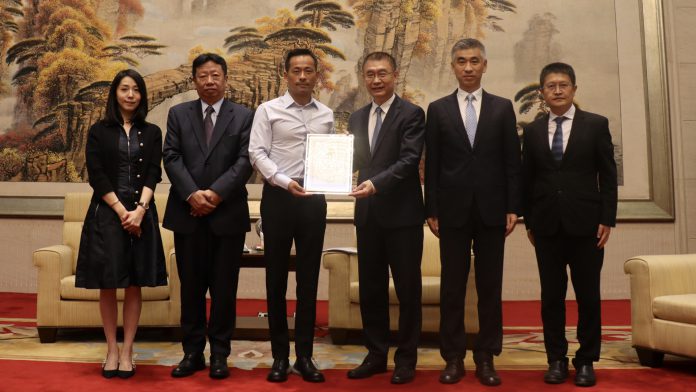 Suncity Group was given a Certificate of Donation by the Chinese central government's Liaison Office to Macau for its efforts to fight the coronavirus pandemic.
In a press release, the group said CEO Alvin Chau and other delegates visited the offices of the Liaison Office on Tuesday and was "warmly received" by officials including Yao Jian, Deputy Director of the Liaison Office.
The certificate recognizes Suncity's swift response to the crisis through a series of donations "showing the patriotic spirit of Macau compatriots." 
Macau's largest junket operator has recently been at the center of a series of incendiary allegations in Chinese media, forcing it to release a video statement earlier this month vigorously denying the rumours, one of which accused the company of funding Hong Kong pro-democracy demonstrators. 
Chau's comments in Wednesday's release are keen to promote Suncity's patriotism and adherence to the "One Country, Two Systems," model that underpins relations between the two Special Administrative Regions of Hong Kong and Macau and China. 
"In the face of the pandemic, it is essential that the group, adhering to President Xi's call on entrepreneurs, takes on its social responsibilities and supports the country and the Special Administrative Region in implementing the anti-pandemic measures," he said. 
"Facing the new normal, Suncity Group is confident that together with the Macau society, we will surely emerge victorious and, staying true to the core value of patriotism and support for "One Country, Two Systems", contribute to the prosperity of Macao and the Chinese nation."
Suncity Group has donated MOP30 million ($3.7 million) to Hubei Province to purchase medical equipment. It has also bought 20,000 surgical masks, while Alvin Chau himself donated another MOP 30 million and about 60,000 respirators to Hubei.