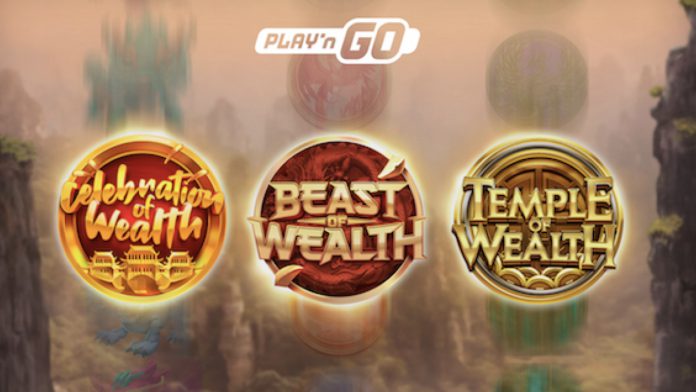 Get "More Entertainment. In One GO" from suppliers Play'n GO as they give not only more games, but more value in those games as they endeavour to create new ways to reach the market and their audiences.
Their latest innovation is the upcoming September release of a collection of three new titles that, although they can be played alone, work together to bring a more rounded game experience to players.
The games, Celebration of Wealth, Beast of Wealth and Temple of Wealth all come together to create The Wealth Series, one big bundle of entertainment!
The titles centre around the idea of wealth, prosperity and good fortune and each game is a 5×3 video slot, based on a different theme. They all have their own free spin feature, each one giving a different experience.
All three titles share an exciting progressive jackpot feature. Throughout the game, a portion of each player's stake is split between four different pots Grand, Major, Minor and Mini. Once the jackpot is triggered, it activates a click and pick feature, and whichever pots the player picks they win.
Having already built themselves up to be a leading supplier in the industry, Play'n GO continue to refresh and reframe their offerings to the market, keeping themselves ahead of the game.
Alongside this new Wealth Series, September also sees the release of the eagerly anticipated Golden Ticket 2, a sequel to their 2014 hit slot, already expected to be a popular release in multiple territories.
The year is inching towards its end but Play'n GO shows no signs of slowing down, with plenty to look forward to on the horizon.