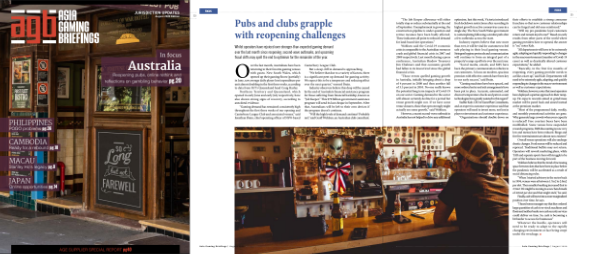 Asia Gaming Brief is pleased to release its August edition of AGBriefings, this time focused on Australia's gaming industry.
This edition coincides with the Australasian Gaming Expo (AGE) Seminars 2020, organized by Asia Gaming Brief in partnership with the Gaming Technologies Association. The event held digitally over three days.
In this edition of our magazine, the focus section examines a range of issues facing gaming in  Australia. We take a look at the opening experience for pubs and clubs, which at first blush has been more positive than expected. We also look at the pros and cons exercise of rethinking the country's online gambling ban.
Operations wise, Sudhir Kale, founder, and principal of GamePlan Consultants, provides his thoughts on how to successfully restart the casino motors.
Lastly in this section, for a rounded view, we study the impact of the pandemic on problem gambling rates. Leading gambling harm researchers Sally Gainsbury and Alex Blaszczynski assess whether the stress from the current situation is leading to a spike in gambling addiction, or whether lack of access to pokies is helping to press the reset button.
We also give a sneak preview into the results of our Australasian Gaming Survey: Covid-19 Response – a nationwide survey sent to clubs and pubs across Australia to explore how businesses have been impacted by the Covid-19 pandemic. The full results will be presented during the Australasian Gaming Seminars, held on 11-13 August 2020.
Outside of Australia, you'll, of course, be able to get updated across Asia's key gaming jurisdictions, including Cambodia, Macau, Japan, and more.
You can access this AGBriefings edition in one of two ways, on our AGBrief website here,  or downloaded from the AGE Conference Platform. Register at www.austgamingexpo.com.
We hope you enjoy our August edition of AGBriefings.