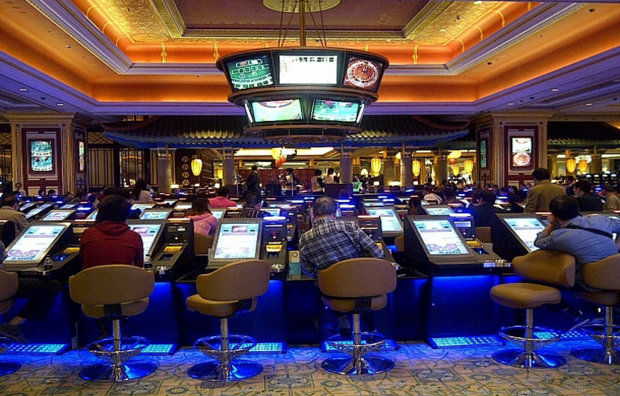 Electronic table games have gained a strong and growing foothold in Macau's traditionally baccarat-dominated casinos and may prove key in populating the floors of new multi-billion dollar resorts amid a tight cap on tables and ongoing labour shortages.
According to forecasts from Union Gaming Research, the number of ETGs in Macau is likely to rise from 5,500 last June to 9,000 once all the new Cotai properties open. Revenue from electronic gaming machines as a whole, which includes ETGs, has ballooned from just $80 million in 2004 to an estimated $1.8 billion in 2014.
Part of these gains have been fueled by Macau's 2012 decision to cap the overall increase in the number of table games it allows to 3 percent a year. While ETGs are not exempt from the cap, regulatory authorities allow a much more favorable player ratio.
While the traditional baccarat table has about nine players to one dealer, one ETG can accommodate as many as 50 to 60:1 for regulatory purposes.
"Operators nowadays are building bigger casinos. But if they are not having the maximum amount of tables [under the table cap limit], they will turn to ETGs," says Bryan Wu, Investor Relations Manager – Corporate Strategy of Paradise Entertainment, whose LT Game unit is the market leader for ETGs in Macau.
"There will be at least two casino openings a year over the next five years, mostly in Cotai," he says, "We are expecting at least 1,000 to 2,000 new incremental units for Live Multiple Game Systems (LMG), not including those from the replenishment cycle."
Given an estimated number of 3,150 new table games
to come online in the new properties in Cotai over the next 3 years, comments made by officials last year that they may revisit regulation as regards to cap of these machines caused considerable concern. However to date, no new rules have been proposed in this regard.
ETGs also present another significant advantage in labor-constrained Macau in that they require less staff. Macau has virtually no unemployment and imported workers are banned from taking up positions as dealers on casino floors.
Sean Knights, executive general manager – table games, at Crown Resorts' Crown Melbourne casino, said part of the original appeal for electronic table games was the labor question. The Melbourne casino has been called the "birthplace of fast action baccarat," introducing the machines in the nineties.   
"While consuming a greater footprint than a traditional table, an ETG allows an operator to increase significantly the number of betting areas available from a far smaller number of outcome drivers (dealers); that is more bets leading to greater revenue and less associated labour," he said.
It has also provided a cheaper entry point for new table game players, which has also been a key to their success in Macau, where minimum bets have risen to become the highest in the world.
"ETGs have to some degree demystified the table games environment thus encouraging new players, whether new to the Casino or simply new to Table Games, to participate in a less intimidating and less expensive experience," Knights adds.
As a result in Macau, operators have tended to transfer scarce tables to the higher end of the mass market, or VIP markets and pushed the lower end towards ETGs.
"Operators nowadays are increasingly cautious about the return of investment (ROI) of their casino properties. As Macau's mass market continues to grow, ETGs offer an innovative solution to minimize cost, increase efficiency and thus maximize their ROI," Paradise's Wu said.
There are two primary ETG types, stadium and stand-alone, which are either fully automated, or incorporate a link to a live croupier. Stadium games may have as many as 200 seats tied to one or more game types. A stand-alone will be five to ten seats attached to a single game type.
Grant Govertsen, principal and managing director of Union Gaming, says that in Macau Sands China (Venetian, Sands Cotai Central, Sands Macao, Plaza) operates the most ETGs on an absolute basis while Paradise Entertainment has the most ETGs on a percentage basis.
Macau is dominated by six suppliers, which together control about 90 percent of the market, with LT Game in the lead. Its systems, which connect gamblers to a live croupier through touch-screen playstations, account for about 60 percent of all the ETG seats in the market.
The live element within the game has succeeded in appealing to Chinese players who are wary of fully-automated games.
Outside of Macau, ETGs are also finding their place in the growing number of casino resorts across the region.
This week LT Game has announced a partnership with Canada-based DEQ Systems Corp. to deliver DEQ's EZ Baccarat game on LT Game's Live Multi-Game systems worldwide and the table game in Asia-Pacific. This partnership indicates a rising demand on ETGs across the region.
In an official press release, Jay Chun, Chairman and Managing Director of Paradise Entertainment comments: "Our new distribution agreement with DEQ to bring the popular EZ Baccarat game to our LMGs and as a new table game offering in the Asia-Pacific market reflects our initiatives to further address the changing table game demands and preferences of the marketplace."
There are about 7,300 ETG seats in operation at the major resorts in Cambodia, Macau, and Singapore, with an addition of 2,000 or more across other jurisdictions in Asia including Malaysia, the Philippines, South Korea, and Vietnam, according to Union Gaming.
Govertson says: "ShuffleMaster is the market share leader in Singapore and Cambodia, although companies like AlfaStreet also have large installations – particularly as it relates to stadium-style layouts. Aruze's stand-alone EGMs also seem to be quite popular."