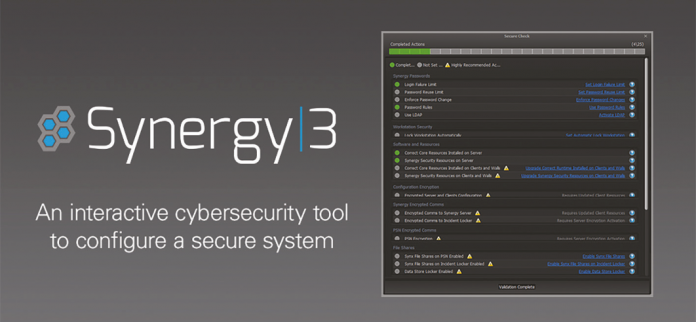 Synectics recently launched a range of new security features in its advanced Synergy software to deliver unparalleled protection for customers.
Sitting at the heart of casino control rooms around the globe, the Synergy command and control platform powers security solutions for the most demanding gaming environments. Built on a rich history of customer-driven innovation, the platform is regularly updated in line with rapidly evolving demands from both clients and the wider industry.
A continued focus on cybersecurity now sees Synergy include a range of additional safeguards, including the new Secure Check feature.
This interactive tool displays recommendations to improve system security and enable administrators to implement changes, all from a single dialog box. Notable checks include encryption of comms and configurations, password management, and workstation lockdowns.
Further enhancements to existing system protection measures make it easier to monitor and enforce the management of authenticated system access.
As Dan Noble, Product Manager – Synergy, at Synectics, explains, these capabilities are particularly important when it comes to demonstrating compliance with regulatory demands.
Dan said: "Adherence to strict security and data sensitivity protocols is not an option. It's fundamental. Therefore, our goal is to make it as easy as possible for our customers to implement. With these latest developments in Synergy, that's what we've done.
"We've made it considerably easier for users to safeguard their systems and data, and to assign a much wider range of permissions, restrictions, and approvals for specific tasks and scenarios. It all adds up to a solution that significantly enhances cybersecurity and promotes process-driven, efficient usage that complies with regulatory requirements."
Specialising in solutions that are engineered with gaming in mind, Synectics applies more than 30 years of experience to deploy dependable surveillance systems in over 100 of the largest, busiest, and most tightly regulated casinos in Asia, North America, and Europe.