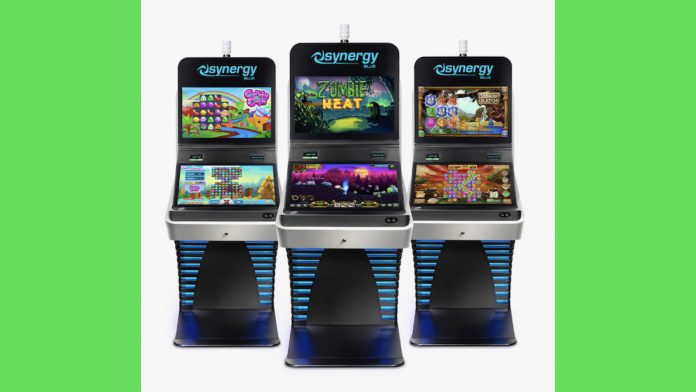 Inspired by Atari, but built with today's players in mind, Synergy Blue's new 2600 cabinet series combines the immersive experience of an arcade with the excitement of wagering to create the perfect blend of 'fun you can bet on!'
Synergy Blue's new 2600 cabinet series is designed to invoke the memories of discovery, excitement and fun experienced at the dawn of the video game era, drawing in new players with crisp graphics and familiar visual elements, while fast-paced fun keeps them engaged. Echoing the original Atari 2600 console, the new cabinets provide casinos with a unique marketing element, as well as more variety of gambling options for today's players. From the thrilling arcade driver, Joyride Jackpot, to mobile-style games like Lucky Candy Ca$h and Mahjong, Synergy Blue truly has something for every type of gamer and gambler.
 To address the current need for increased sanitation and cleanliness on casino floors, the 2600 cabinet series comes standard with Blue Safe Touch technology, which incorporates modern safety measures for continued cleanliness and sanitary playing conditions for today's casino gaming environments.
 The 2600 series is available in XL (40" wide-set), Slant Top (28" width), or bar top versions and features a variety of cabinet configurations including arcade driver, joystick, buttons, arcade gun, touchscreen and more. The video game-like wagering experience of the 2600XL is further enhanced by arcade-style peripherals, including an arcade driving configuration (complete with steering wheel and foot pedals), making it stand out on the floor and attracting players who seek a different, more modern gambling experience.
Synergy Blue works with Jade Entertainment Solutions to deliver 'fun you can bet on' to Asia Pacific and the surrounding areas. As experts in their market, Jade works with individual operators to determine which of Synergy Blue's one-of-a-kind gambling experiences would best fit their unique players. Built for maximum fun and flexibility on Synergy Blue's patented HAWG platform, the 2600 cabinet series is now part of the exciting offering provided by Synergy Blue and delivered by Jade. Coupled with a wide-ranging library of exciting, skill-influenced games, Synergy Blue's new hardware provides the fun and interaction that today's players expect — bringing the modern gaming experience to casino gambling, the key to attracting new demographics.