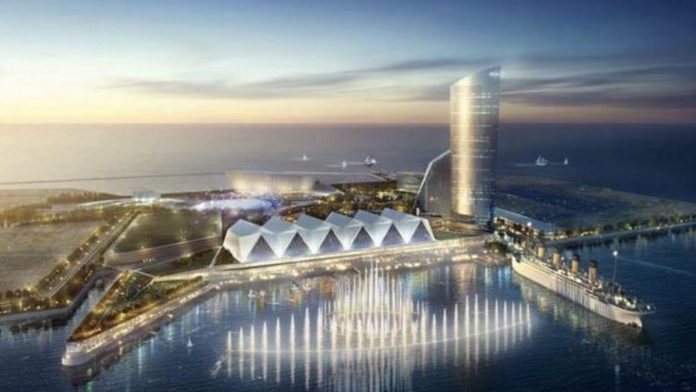 A year ago there were many things uncertain about IR development in Japan, but if there was one thing you could depend upon—one prediction that could be made with near total confidence—it was that the man-made island of Yumeshima in Osaka Bay was destined to become host to one of the biggest and grandest IRs in the world. 
Now even these plans have begun to lose their inevitability.
Don't get us wrong—the odds are that Yumeshima will still one day become the venue for a major IR, probably built and operated by MGM Resorts, but is that a sure thing? No longer.
One key element remains rock solid and hasn't wavered at all: the intentions of the local government led by Osaka Mayor Ichiro Matsui and Osaka Governor Hirofumi Yoshimura. They remain as committed to the project as ever, and they appear to have years of political power in front of them. Public opinion in Osaka is also relatively tolerant of IR development plans, especially when compared to the intense public opposition of, for example, the people of Yokohama.
It also remains the case that development of the currently barren Yumeshima will be necessitated by Osaka's plans to host the 2025 World Expo. While the future is now hard to predict, it does seem highly likely that the Covid-19 impact should be minimized by 2025, by the development of a vaccine or by more effective medical treatments. Presumably, that means that Yumeshima will, as planned, be visited by millions of international guests in that banner year.
But it's also clear that the aim of creating synergy between the 2025 World Expo and the opening of the IR is now lost. Even the most optimistic scenarios would put the Yumeshima IR's opening around 2028.
But if there is to be a Yumeshima IR, it might be something considerably less than the US$10-12 billion world-beater that was talked about a year or two ago.
Sheldon Adelson, Lawrence Ho, and James Murren are no longer in a verbal war about how they'll "do whatever it takes" to win the IR race in Japan. Indeed, Sheldon Adelson has now picked up his toys and left; Lawrence Ho has become uncharacteristically silent; and James Murren's successor, William Hornbuckle, has put forth a much more cautious tone in his first earnings conference call as the top leader of MGM Resorts.
"There are a great deal of things to be worked out there," Hornbuckle explained in reference to the Osaka development, "and we'll only make this investment if we think it's going to be prudent; if we think it's going to pay the kind of returns that it needs to pay and to meet our expectations. So there's a long way to go."
"We like that we're not fully all in on this investment," Hornbuckle added.
It was a far cry from James Murren's public messaging last February: "We've committed now to the mayor and to the governor of Osaka, that MGM has adopted the Osaka First strategy. We are focusing our considerable resources on Osaka."
MGM's team in Japan has worked relentlessly for over half a decade to build relationships on the ground in Osaka, so much so that all of the other major international IR operators eventually decided that they couldn't match the intensity of MGM's focus. One-by-one they withdrew from the field. MGM's potent partnership with the Orix Corporation, in particular, appeared to be the checkmate on all the others' Osaka ambitions.
But now with the prize within its grasp, MGM's new leader tells investors that "we'll only make this investment if we think it's going to be prudent." It seems a bit late in the game for that message.
Of course, it is really the world itself that has changed. Covid-19 has tossed to the ground many cherished plans and expectations. As financial losses pile up from emergency business suspensions and international travel restrictions, bold investment schemes need to be pared down.
Yumeshima looks like it may be hit hard. For example, Osaka Metro is now reportedly reconsidering its ambitious plan to build the 250-meter tall, 100 billion yen (US$910 million) Yumeshima Station Tower—hosting hotels, entertainment facilities, and business offices—that the company had been planning to construct by 2024. This centerpiece development on the island, which almost all visitors would pass through, may not be put in place, other than a basic subway station.
Other railways which have announced Yumeshima extension plans—JR West, Kintetsu, and Keihan—are all said to be growing concerned that these expensive projects could end up being an economic mistake for their companies. The needed transportation infrastructure for Yumeshima is also in doubt.
It's too early to bet against the Yumeshima IR. It still seems more likely than not that strong local political leadership will push past the many obstacles and make something happen. But how much today's Yumeshima dream still resembles those sweeping earlier visions is an open question. 
(AGB Nippon)