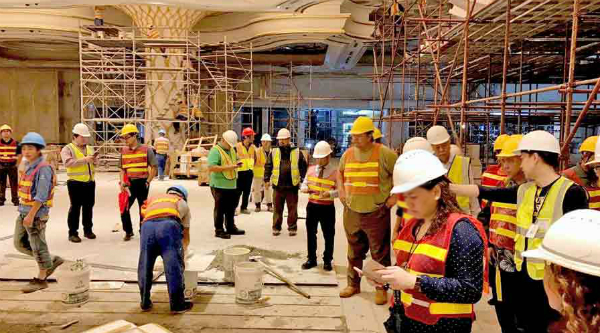 Seven Chinese workers, who were hired by subcontractors of Imperial Pacific International, are seeking $11.58 million in damages from the operator due to injuries suffered on site and poor working conditions, local media reports. 
The claim is split between $3,863,534 in compensatory damages plus $7.72 million punitive damages, the newspaper said, citing Aaron Halegua and Bruce Berline, who are counsel for the plaintiffs.
The seven former workers are suing IPI, MCC International Saipan Ltd. Co. and MCC's subcontractor Gold Mantis Construction Decoration (CNMI) LLC over the alleged injuries they suffered during accidents at the worksite.
Halegua and Berline said the plaintiffs were defrauded into paying enormous fees for work on Saipan, indebting themselves to family, friends, or loan sharks, only to spend each day in fear of being beaten, fired, fined, or deported; that the plaintiffs were treated like "machines," not human, working 13-hour days for less than minimum wage without a day off in up to five months.
"It was the most dangerous worksite that plaintiffs had ever seen—tired workers performing evening shifts high-up on the casino scaffolding with no safety nets," Halegua and Berline said.