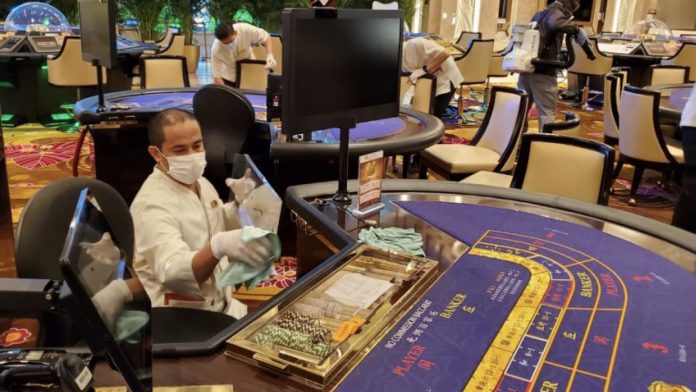 A sign Beijing is once again ramping up its anti-corruption rhetoric, combined with an increased focus on capital outflows are likely to be further factors hindering recovery in Macau, analysts said.
Despite the fact that China allowed visitation to Macau to resume from Sept. 23, so far demand has not picked up as quickly as had been expected. In the first four days of the key Golden Week holiday, there has been a drop of 87.4 percent in visitors, compared with the prior year. 
Analysts at Bernstein note there has been a resurgence of rhetoric against corruption over the summer, with an increased number of investigations targeting state-owned-enterprise executives and sub-ministerial level individuals. 
"We see risk that the CCP may be embarking on a second wave Anti-Corruption campaign," the note said. 
"Macau could suffer damage if activity increases and leads to a suppression of gaming. This may be more so the case if the current campaign against foreign casinos and online gambling and increasing financial flow scrutiny begins incorporating Anti-Corruption activity into the same sphere," it said.
Analyst Michael Ting, publishing on the Smartkarma platform, also wrote that Golden Week hasn't produced the strong rebound that had been expected.
"Headwinds such as increased government scrutiny on capital outflow has likely hurt gaming sentiment demand from higher spending VIP and premium mass players," he said. "We expect these trends to continue and hence believe that Macau gaming stocks could underperform in the near term."
During the last anti-corruption drive, Macau's gross gambling revenue fell for three straight years, from 2014, plunging 35 percent in 2015. Although Macau was not an official target, revenue suffered as high rollers preferred to keep a low profile.
This time China is also targeting foreign outflows, which it says are a threat to national security. It is threatening to draw up a black list of those countries that target Chinese nationals for gambling purposes. 
Ting also says other reasons for the weaker than expected return of gaming revenues include a cumbersome and lengthy IVS visa approval process and required negative COVID tests before entering into casinos.